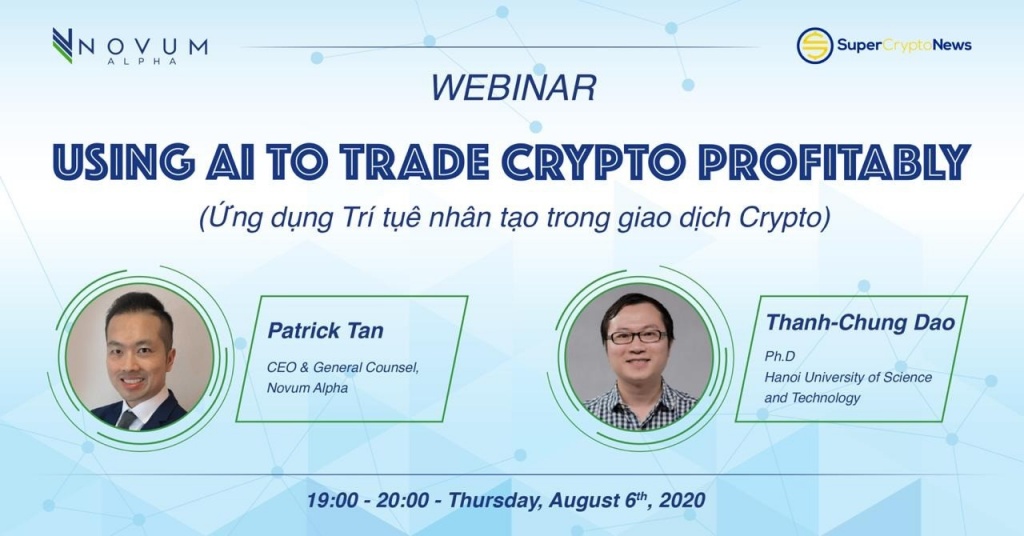 The world of science and technology is constantly set in motion where failing to keep updated with the latest trends means choosing the path of self-elimination. The crypto community gathers the most elite and sensitive enthusiasts while new innovations are also utilized in the most optimal way.
On August 6th, SuperCryptoNews was privileged to co-host a webinar with the participation of Mr. Patrick Tan, CEO and co-founder of Novum Alpha, a digital assets investment firm based in Singapore, and Dr. Dao Thanh Chung, lecturer of the Faculty of Information Technology, Hanoi University of Science and Technology to discuss the topic "Using AI To Trade Crypto Profitably".
In recent years, AI technology (Artificial Intelligence) has become an increasingly familiar concept, where simulating human thinking and learning processes for machines, especially computer systems can be seen. This concept was first introduced by John McCarthy, an American computer scientist, in 1956 at The Dartmouth Conference. Today, AI technology is a term that encompasses everything from robotic automation to actual robotics.
According to Dr. Dao Thanh Chung, although crypto trading is still a new norm in Vietnam, the local market in this country is quite vibrant. The community has various options from domestic to international crypto platforms; the former can refer to VCC exchange which is quite popular among Vietnamese traders, while the latter are alternatives such as Remitano, Binance, Houbi, etc. They all support deposits in VND currency. However, everything has a dark side. There exist many ICO scams arising in Vietnam with the largest amount siphoned totalling a whopping 660,000,000 USD.
To solve this problem, AI technology comes in as a supporting and automated system for crypto traders with the use of self-learning robots. It also helps to predict market prices thanks to the support of Machine Learning and Deep Learning models. While Machine Learning supports the Autoregressive model where output variables depend linearly on historical values and on a stochastic term (an imperfectly predictable term), Deep Learning shows the usefulness of Long Short-Term Memory (LSTM) and Artificial Neural Networks (ANN).
Mr. Patrick Tan, CEO and co-founder of Novum Alpha further demonstrated the above idea with the current investment landscape where many challenges are set with market manipulations, data noise, and the widespread use of automated, bot-led tradings in digital asset markets contributing to signal noise.
He showed that as time goes by, we adopt mixed information from a massive number of sources, especially in the modern world where social media is flourishing. Social media is undeniably an essential means of communication in current society, but there also exists countless fake news leading us into misoriented paths without the ability to differentiate right from wrong.
AI appears to solve this problem (or is at least a powerful tool to help filter out the noise). Data science, AI and machine learning tools help to filter out market noise to generate reliable trading signals, and the data-based quantitative approach ensures consistency, sell-discipline and prevents confirmation bias.
AI technology as well as the cryptocurrency sector are developing and flourishing at a rapid rate. The benefits that science and technology bring us is still nothing less than groundbreaking.
Watch our webinar session here:

You may also want to read: One Thing Needs to Happen Before Bitcoin Booms