A survey on June from the Intertrust Group, a Dutch trust and corporate management company, found that 98% of hedge funds — an "overwhelming majority,"  states the survey — will have some kind of crypto exposure by 2026, in a major vote of confidence for digital assets after recent large price falls and plans for punitive new capital rules.
The last few months' frenzy of institutional money flowing into cryptocurrency has seen crypto hitting the headlines — at the least as a novelty asset, at the most as a must-have. There is undoubtedly a trend in the market toward greater awareness and acceptance of digital assets as a new investable asset class.
At Super Crypto Conference 2021, a virtual blockchain event focusing on the South East Asia market organized by Novum Group and SuperCryptoNews, this topic is discussed by an outstanding speakers line on the panel discussion: "Institutional Interest in Crypto & DeFi".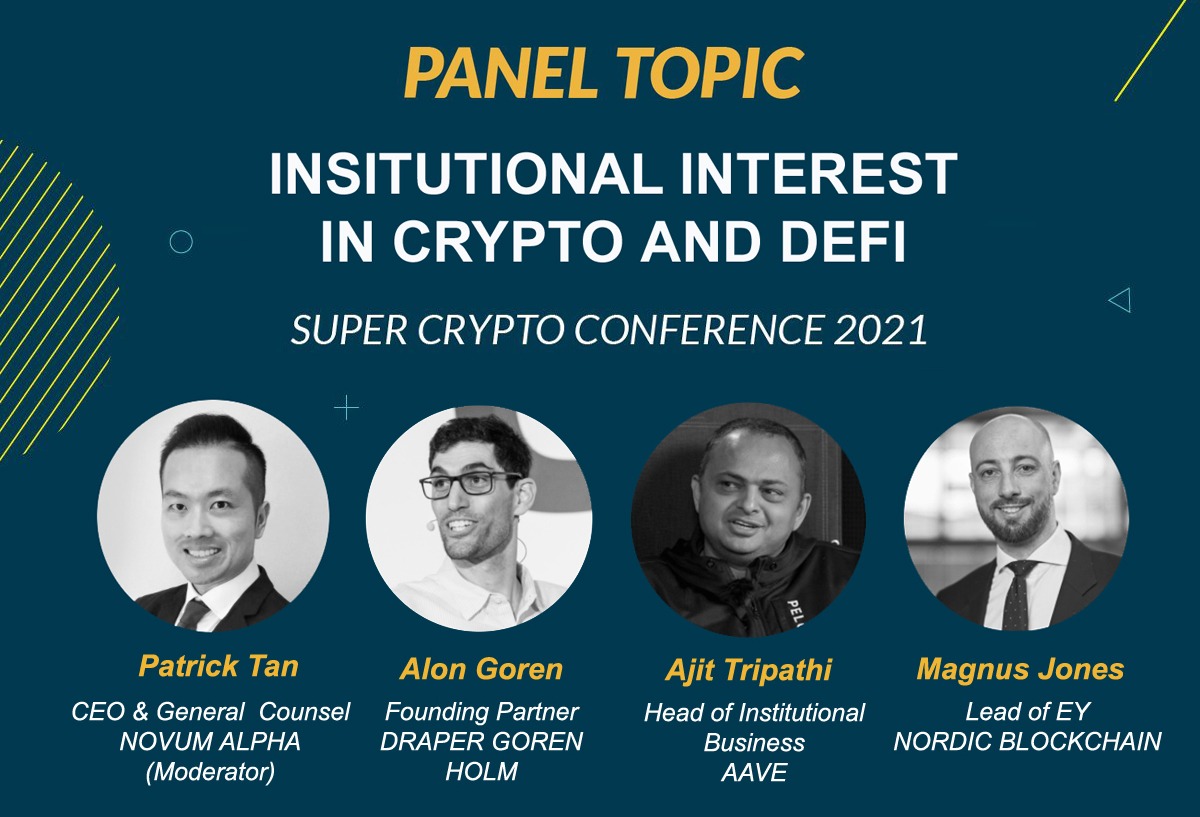 Some of main topics covered in the session:
1. What is The Growth of Institutional Interest in DeFi?
2. What are the benefits of Institutional Interest?
3. Impact of Recent Institutional Interest in DeFi?
4. DEFI: THE LAST CRYPTO FRONTIER FOR INSTITUTIONS?
Panel speakers:
1. Alon Gorem – Founding Partner, DRAPER GOREN HOLM
2. Ajit Tripathi – Head of Institutional Business at AAVE
3. Magnus Jones – Lead of EY at NORDIC BLOCKCHAIN
4. Patrick Tan – CEO & General Counsel at NOVUM ALPHA (Moderator)
Watch the panel discussion here.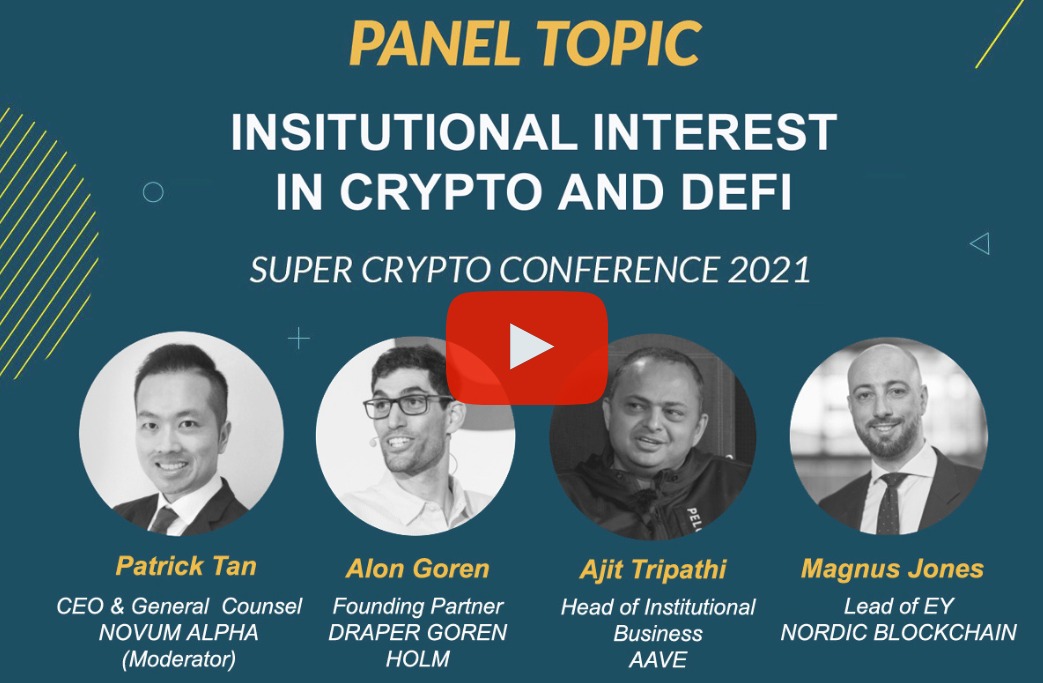 About Novum Alpha:
Novum Alpha is the quantitative digital asset trading arm of the Novum Group. An all-weather digital asset trading firm, Novum Alpha uses both deep learning and machine learning tools in various trading programs to help clients grow their portfolios using an analytical and systematic approach that is able to deliver uncorrelated returns in all market conditions.
About Aave:
Aave (fun fact: the name is taken from the Finnish word for "ghost") is a decentralized, open-source, and non-custodial liquidity protocol on Ethereum. Depositors earn interest by providing liquidity to lending pools, while borrowers can obtain loans by tapping into these pools with variable and stable interest rate options. Aave Protocol is unique in that it tokenizes deposits as aTokens, which accrue interest in real time. It also features access to Flash Loans and Credit Delegation as uncollateralized loan options.
About Nordic Blockchain:
The Nordic Blockchain Association is a non-profit organization whose aim is to unite and consolidate the blockchain community within the Scandinavian countries. In the hope that we can provide blockchain enthusiasts and startups with a tangible environment for interaction and networking, we, along with our partners, have instated a series of workshops and introductory courses that can help businesses and organizations in their structural process of incorporating blockchain.
About Draper Goren Holm:
Draper Goren Holm is a blockchain venture studio and fund created by Tim Draper, Alon Goren, and Josef Holm with a focus on incubating and accelerating the best early-stage startups from around the world.