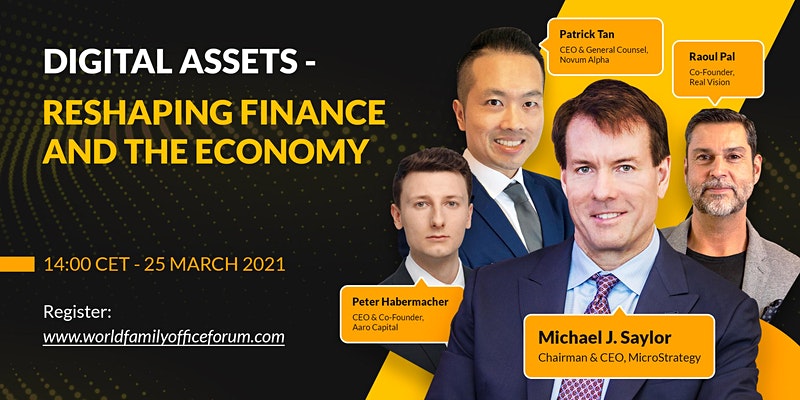 Hosted by Connect Wealth, The World Family Office Forum is a unique business event dedicated to Ultra High-Net-Worth Individuals (UHNWI's), Family Offices and their trusted advisors. This year's virtual event will give delegates a unique perspective on the changing landscape, trends, challenges, and opportunities for Family Offices as well as individual investors as we move through 2021. The Forum also aims to provide a platform for generating new business relationships.
In this event, Michael Saylor, the CEO of business intelligence software company MicroStrategy, one of the first publicly traded companies to add bitcoin to its balance sheet, will participate on a panel with the topic "Digital Assets – Reshaping Finance and the Economy".
In addition to Saylor, the panel will also have the presence of Patrick Tan, CEO & General Counsel, Novum Alpha; Peter Habermacher, CEO & Co-Founder, Aaro Capital; and Raoul Pal, Co-Founder, Real Vision. The panel discussion will run from 14:00 CET (Central European Time) on 25 March 2021 and will be livestreamed on an easy-to-use desktop application. Mathias Imbach, Co-Founder & Group CEO of Sygnum, will be the host of this carefully formulated panel discussion.
By joining this event, attendees will be able to know some insights from the panelists regarding the space of digital assets:
🎯 Bitcoin – What institutional adoption means for investors?
🎯 The problem with Fiat money and how Central Banks could evolve?
🎯 How does Ethereum differ to Bitcoin? What is DeFi?
🎯 Why should Family Offices take Crypto seriously? Best practice approach
✅ Free registration here: https://www.worldfamilyofficeforum.com/registration 
You may also want to read: Michael Saylor Says Bitcoin will Flip Gold in Market Cap