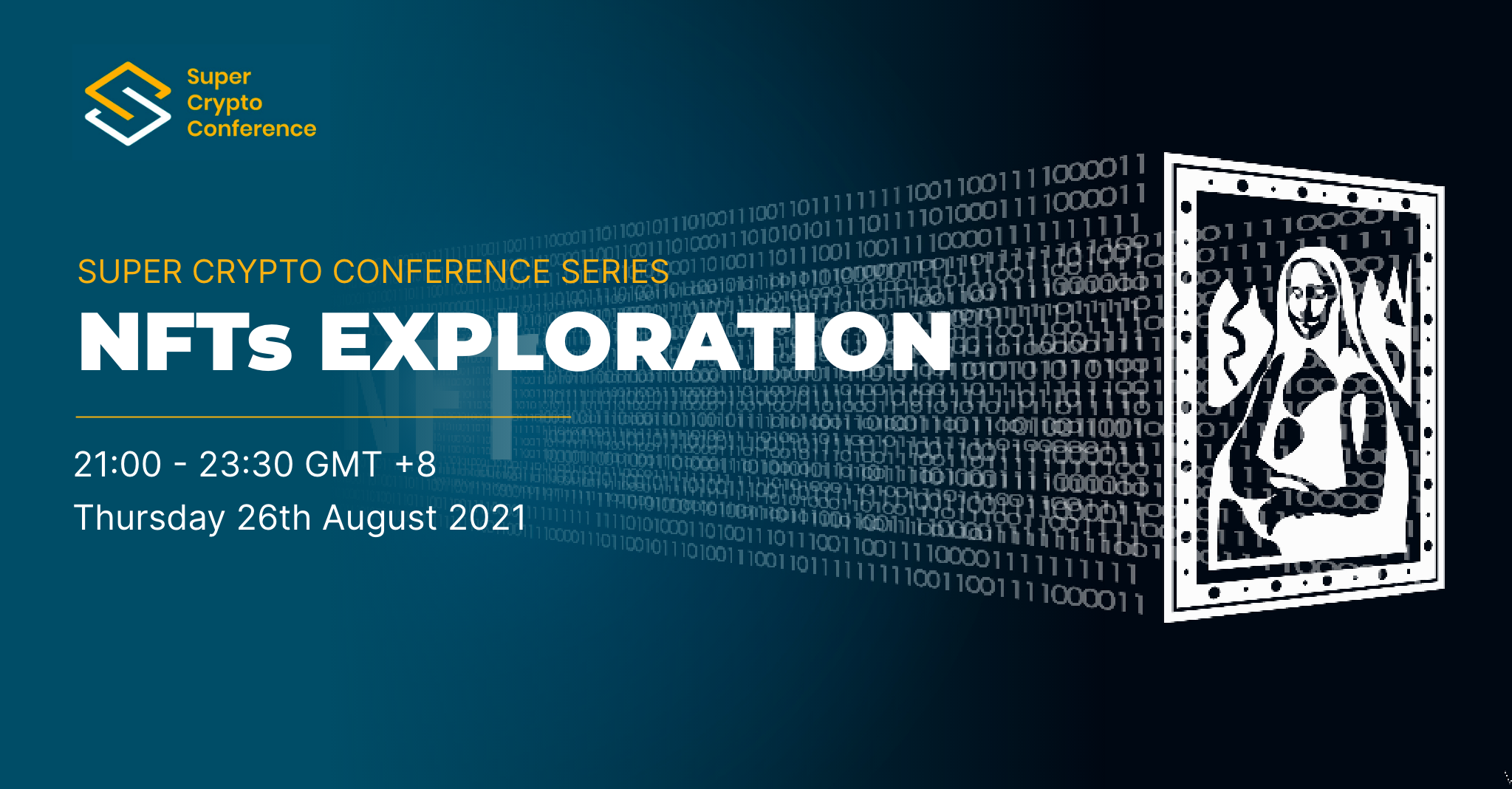 Super Crypto Conference (SCC) is a full day virtual conference for the latest insights and necessary conversations about blockchain and cryptocurrency in Asia, in particular Southeast Asia, and priming the next blockchain boom in the region.
Following the success of SCC, SCC SERIES is a series of virtual events focusing on the hottest topics in the blockchain industry. 
With over US$2 billion worth of NFTs transacted in the first quarter of 2021 alone and the largest transacted amount for a living artist of US$69.3 million for Beeple's First 500 Days, NFTs are too big to ignore.
The potential of NFTs goes much further because they completely change the rules of ownership. Transactions in which ownership of something changes hands have usually depended on layers of middlemen to establish trust in the transaction, exchange contracts and ensure that money changes hands.
None of this will be necessary in future. Transactions recorded on blockchains are reliable because the information cannot be changed. Smart contracts can be used in place of lawyers and escrow accounts to automatically ensure that money and assets change hands and both parties honour their agreements. NFTs convert assets into tokens so that they can move around within this system.
This has the potential to completely transform markets like property and vehicles, for instance. NFTs could also be part of the solution in resolving issues with land ownership. Only 30% of the global population has legally registered rights to their land and property. Those without clearly defined rights find it much harder to access finance and credit. Also, if more of our lives are spent in virtual worlds in future, the things that we buy there will probably be bought and sold as NFTs too.
In this episode of the SCC Series, we will find out how industry professionals see where the NFT sector is headed to and learn about the opportunities from investing and engaging with NFTs as an important subsector of the cryptocurrency ecosystem.
𝗟𝗶𝘀𝘁 𝗼𝗳 𝘀𝗽𝗲𝗮𝗸𝗲𝗿𝘀:
-Patrick Tan, CEO & General Counsel, Novum Alpha
– Lynn Hoang, Country Director, Binance Vietnam
– Miko Matsumura, General Partner, Gumi Cryptos Capital
– Artur Pszczółkowski, CMO, NFTs Expert, GamerHash
– Irina Karagyaur, Head of Metaverse Growth, Unique Network
– Twobadour, Steward, Metapurse
…..
𝗧𝗼𝗽𝗶𝗰𝘀:
The definition of NFTs and their interaction with Metaverse

Some of legal challenges that NFTs could solve

The interaction of NFTs with DeFi & their value creation for both ecosystems
𝗗𝗮𝘁𝗲: 𝟮𝟲 𝗔𝘂𝗴𝘂𝘀𝘁 𝟮𝟬𝟮𝟭
𝗧𝗶𝗺𝗲: 𝟮𝟭:𝟬𝟬 – 𝟮𝟯:𝟯𝟬 (𝗚𝗠𝗧+𝟴)
𝗕𝘂𝘆 𝘁𝗶𝗰𝗸𝗲𝘁 𝗳𝗼𝗿 𝗙𝗥𝗘𝗘: 𝗵𝘁𝘁𝗽𝘀://𝘀𝗰𝗰.𝘀𝘂𝗽𝗲𝗿𝗰𝗿𝘆𝗽𝘁𝗼𝗻𝗲𝘄𝘀.𝗰𝗼𝗺/