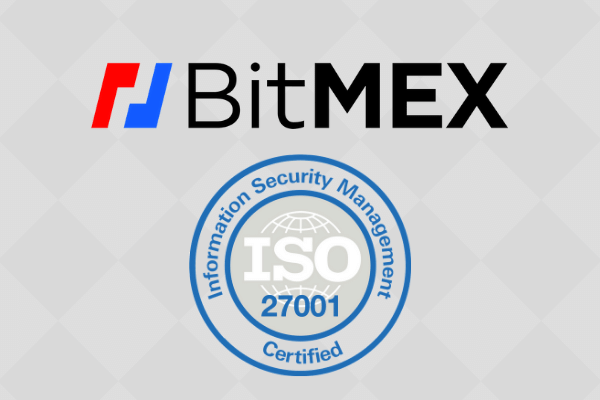 100x Group, the holding structure for the top P2P crypto-products trading platform BitMEX, has just obtained the prestigious International Organisation for Standardisation (ISO) information security certification ISO/IEC 27001.
The ISO is an independent global firm that establishes and evaluates crucial standards for many types of industries and functions.
The ISO/IEC 27001 standard specifically targets information security management systems. It requires the system to safeguard the customer and partner data — a highly important aspect for leading financial services firms.
It's difficult to overstate the importance of information security for a platform like BitMEX. Traders trust us because of our track record on security – we have never lost a single Satoshi through intrusion or hacking. But security is never a static process and in order to continue to set the bar as high as possible, we sought – and were awarded – one of the most rigorous certifications: ISO/IEC 27001.

Alex Höptner, CEO of 100x
The IT systems need to undergo rigorous examinations before they can be awarded with the ISO/IEC 27001 certification. The inspector looks deeply into the organization's information security risks, such as potential threats, vulnerabilities, and the effects of both.
Data security is a cornerstone of our business and the ISO certification shows just how seriously we take that commitment. Working with BSI, the organisation that developed these exacting standards, the certification process has taken nearly a year and hundreds of hours of detailed audits. However, as pleased as we are, we recognise that this is just part of our ongoing obligation to keep our customers as safe as possible.

Brian Rankin, Head of Security at 100x Group
BitMEX announced their plans to (literally) send Bitcoin to the moon on Friday. Pennsylvanian space company Astrobotic Technology Inc. will be supporting this endeavour. The exchange said that the space robotics company will be sending its first commercial lander — carrying a physical coin holding one Bitcoin — to the moon in Q4 2021.