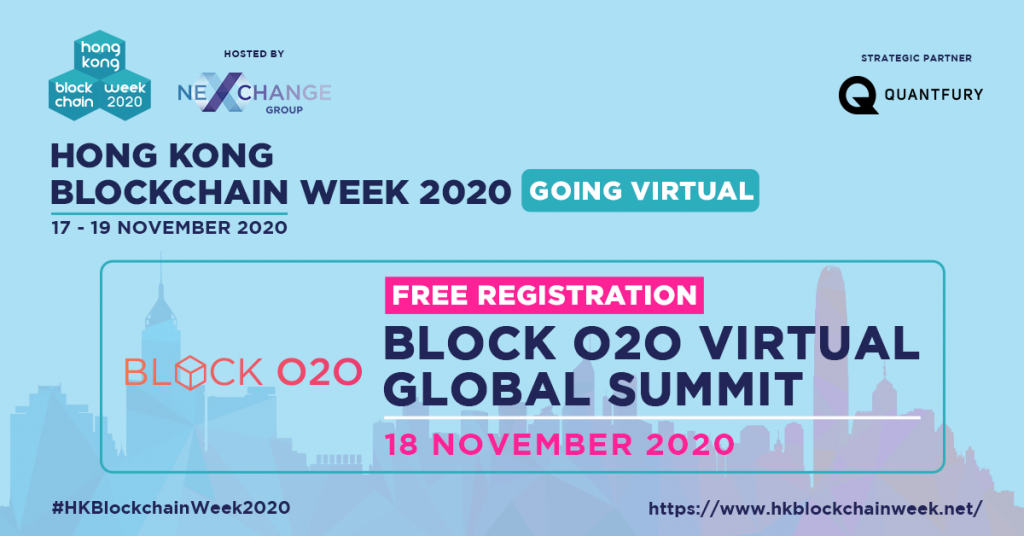 With support from the Hong Kong community, industry leaders from across the world will converge at the largest virtual event for business, regulators, and technology.
The 2nd Annual Hong Kong Blockchain Week 2020 hosted by The NexChange Group will be held between the 17th and 19th of November 2020. The core event of the week is the Block O2O Virtual Global Summit which is set for November 18th. The conference is set to be an ideal platform to look back at what 2020 has brought to the industry development, and to carry out prolific discussions about the range of applications blockchain technology can offer across different industries. Hong Kong and the Greater Bay Area have become a testing ground for a Digital Currency / Electronic Payment project by the People's Bank of China, and the conference speakers will dive into detail on this unprecedented initiative.
The Blockchain Week will showcase a vibrant range of events, including an official Virtual Welcome Event on November 17th for VIPs and Speakers; a DeFi Day on November 19th presenting a series of online meetings and webinars about blockchain for Decentralized Finance; and a spectacular online ceremony of the world's first international TADS Awards 2020 on November 18th.
Samson Lee, founder and CEO, Coinstreet Partners: "TADS AWARDS celebrates the Tokenized Assets and Digital Securities industries by recognizing and honouring significant contributions and distinguished achievements worldwide. TADS aims to nurture the growth of these industries by establishing best practices and setting measuring standards."

During Hong Kong Blockchain Week attendees will delve into the various content aspects:
CBDCs: Use Cases around the World
DeFi
Asset Tokenization
Mining Industry in 2020
Digital Economy
Regulation in Asia, the US and Europe
Solutions for enterprise
Social impact of blockchain-based projects
Speakers featured on the event agenda throughout the week:
David Chung, Under Secretary for Innovation and Technology, Hong Kong
Brian Behlendorf, Executive Director, Hyperledger and Linux Foundation
Henri Arslanian, FinTech and Crypto Leader for Asia, PwC
Alex Mashinsky, Founder and CEO, Celsius Network
Alicia García-Herrero, Chief Economist for APAC, Natixis
Miko Matsumura, General Partner, Gumi Ventures
David Johnston, Managing Partner, Yeoman's Capital
Mai Fujimoto, Miss Bitcoin & CEO, Kizuna Co
Dr Ben Goertzel, Founder and CEO, SingularityNET
Juwan Lee, Chairman of NexChange: "Hong Kong Blockchain Week bridges many industries that are being transformed by blockchain technology and the opportunities it has brought. We expect to bring together those who decide the future of these industries today: investors, governments, media, and entrepreneurs from around the world."
About NexChange: NexChange Group is a venture innovation and media platform specializing in Blockchain, FinTech, HealthTech, AI, and Smart Cities. For more information on the speakers, agenda, side events and partnerships, please visit https://www.hkblockchainweek.net/ or contact: info@nexchange.com