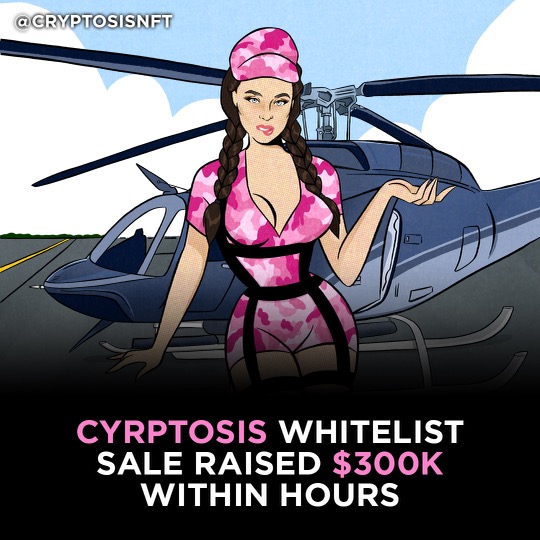 Whether it's art, music, videos or even real estate, many patrons have entered the exciting NFT space and are finding great success. NFTs are non-fungible tokens and they are changing the way almost every industry works. Combined with the metaverse, NFTs have skyrocketed in popularity and are going to define the future. Now, the adult film industry is also making its way into the NFT space through a new project called CryptoSisby the iconic adult film star Lana Rhoades.
It's definite that NFTs will go on to change, shape and define the future in finances, entertainment, and trading. However, many people are reluctant to enter this sector due to the fear of change. Lana is certainly not about to be intimidated by change. This is why she has started her latest NFT project, and it has already started to gain momentum.
CryptoSis has already gained 60,000 people since its launch and this number is not expected to slow down anytime soon. People have started to see the potential, gains, and returns that this project offers. Those who become a part of CryptoSis will be able to directly communicate with Lana via her general chat. That's not all, they will also be able to attend her AMA's. In just a short period of time, CryptoSis has been able to repay $10,000 to their server members. That is a truly incredible achievement and it's amazing how quickly they have managed to do this.
Another strong indication of the popularity of this project is the change in their Discord account, which has collected over 100,000 people and did it without any paid promotions. All these people joined the channel over a period of 7 days and all originally by word-of-mouth and from following Lana's posts. Lana has also kept her social media growing and her TikTok account has gained 50,000 followers in only 48 hours. This shows her influence and how CryptoSis is already starting to beat many expectations.
The journey of starting and making CryptoSis a success has not been easy. Lana mentions the many obstacles and challenges they had to overcome to get where they are. Among the challenges was overcoming the problem of bots; they had to spot and ban bots from their server. The team has so far successfully managed to ban more than 30,000 bots.
Overall, CryptoSis is not just another NFT project which will come out and be soon forgotten. It's already started to beat expectations and Lana is going to make sure it develops into a community of people that are pleasant and helpful to one another. They plan to involve everyone so the community will continue to grow exponentially.
Looking into the future, the team also wants everyone to recognize that this won't just be a one-drop NFT company. They have multiple CryptoSis drops planned – the next one is with Mia Malkova. They plan on working with every girl in the adult film industry.