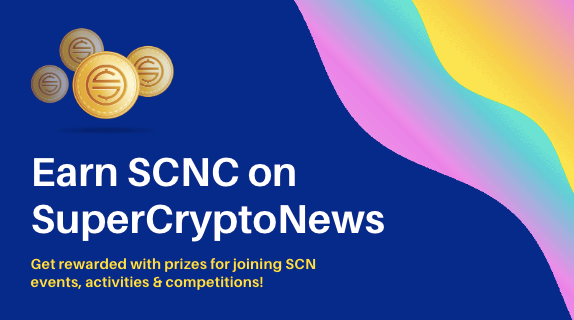 SuperCryptoNews, Asia's leading blockchain and cryptocurrency-focused media outlet is proud to introduce the SCNC, a points and rewards system created just for the SCN community. We would like to welcome our loyal readers and generous content contributors to join the SCNC rewards program, where you can earn points to redeem actual prizes!
As SCN strengthens an open and sharing community, everyone can create their own account and start accumulating the SCNC immediately. All users will receive 10,000 SCNC for free when creating an account and signing up for the first time. However, do note that the balance will be reset back to the initial amount of 10,000 SCNC at the beginning of every month to provide a fair and equal chance to everyone.

Users can earn more SCNC by playing simple but exciting games created for the SuperCryptoNews 30 Altcoin Index (SCN30 Index), which was launched early this year in January to measure the performance of 30 specially curated Altcoins.

If you feel like contributing more to the community and want to expand your readership coverage into new territories, join the SCN Contributors program where you can be rewarded for sharing your story on our platform. Being a part of the SCN Contributors' Team and submitting quality work will help you accumulate SCNC. We are open to both already published works (if you would like to cross-publish on our site) and also exclusively written articles as well just for SCN!

For those who are willing to share our up-to-date news and insightful stories on their social media, we would like to encourage you by offering 1,000 SCNC for every article you shared.

Stay tuned for more events and competitions on SCN as we will bring our viewers new ways to stay engaged within the community!
Learn more about SCNC: https://scn30.supercryptonews.com/scnc
Contact us: admin@supercryptonews.com