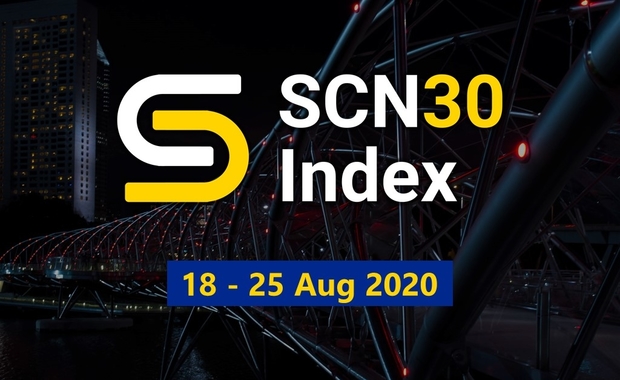 In the past 7 days, Bitcoin yielded a 3.46% gain while gold faced a correction and the price is now down -2.33%. Major US stock indices NASDAQ is up 1.83% and the S&P 500 increased slightly with a 0.64% gain.
The top-performing alternative coin (Altcoin) during the past week is inarguably ChainLink (LINK) as it skyrocketed to $20, defying everyone's expectations. The 7-day gains for LINK is now at 40% despite a pullback last night to $17.5 level. LINK now sits in third place on the SCN30 Index underneath big-name Altcoins Ethereum (ETH) and Ripple (XRP.) The year-to-date (YTD) gain of LINK in 2020 is at a jaw-dropping 968%.
Other top-performing Altcoins during the last week were Tron (TRX) and EOS (EOS) which are both highly popular in the Chinese crypto community. 
TRX's YTD gain is now at 129% with a weekly return at 48%. From the technical analysis perspective, the short-term price action is in a clear uptrend. TRX managed to break above its previous yearly high at $0.271 and is now on its way to test the next resistance at $0.395 where the 161.8 Fibonacci level lies.
Nevertheless, a price pull-back is highly possible as the relative strength index (RSI) is currently overstretching. The correction down to the breakout point at $0.271 to confirm the breakout is likely. If TRX bounces off the former resistance, it could be used as a buy-in spot for speculators. In essence, if TRX manages to remain above its previous high, the bullish price structure will remain intact and the price could go even higher.

EOS was once the most anticipated Altcoin of 2018. However, when the hype subsided EOS did not perform as well as the other high-cap projects. The YTD gain for EOS is at 47% and provides a weekly gain at 18%. Looking at the chart, EOS is now attempting to break out to an uptrend but still struggling to break above the overhead resistance at $3.912.
If EOS manages to push through Fibonacci's resistance, the next target would be at $5.51 which is a yearly high achieved in February. Traders can look for a buy-in opportunity at the point of break out or at a support level at $3.42.
Disclaimer: This analysis is the view of the author's alone, and does not in any way represent trading advice. all traders should trade at their own risk.
You may also want to read: One Day COVID-19 Will Be Cured, But What About the US Dollar?