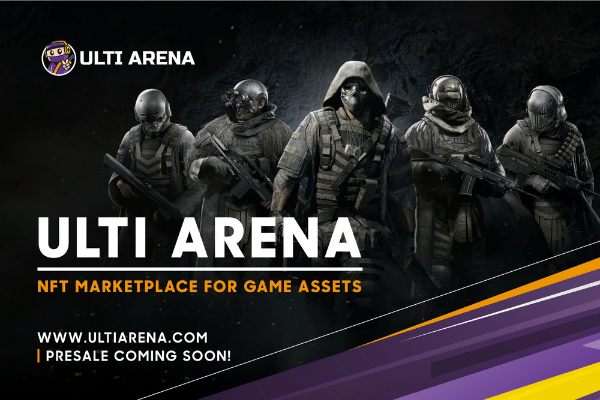 Designing Indie or AAA game assets is no easy feat. There are millions of 2D/3D characters, weapons, sprites, music, sound, user interfaces available on various marketplaces out there. But tracing all those assets to original creators is extremely difficult. Once an Artist or Developer sells his/her digital assets, there's no way to track further usage in games or animations. Until now.
Ulti Arena solves the problem of traceability of all those assets. By implementing NFT – Non-Fungible Tokens, Artists and Developers can easily track their digital assets usage on blockchain. It also creates new ways of earning: NFT's can be sold as unique pieces of art that can't be reproduced and there's only one owner. Buyers can bid on one-of-a-kind game assets, UI or music. Artists will be able to create their own storefronts complete with customizable themes, colours and unique URL! Developers can also discover Artists through their portfolios. It will be much easier now to find a partner for the next Indie game project or someone to join the AAA game development efforts.
Apart from catering to Game Artists and Developers, Gamers will also find something for themselves. As Axie Infinity has shown (People in Phillipines earn money playing games ), playing games can also produce passive income. At Ulti Arena, we're striving to create a thriving community of Game Enthusiasts.
With Discussion Boards, users will be able to earn ULTI Tokens, which will be tradable on major cryptocurrency exchanges. An innovative Proof-of-Gaming concept will also provide a green consensus mechanism for users to earn ULTI Tokens by just playing games. The longer they play, the more ULTI Tokens will be generated for that particular player. No need for energy-consuming mining setups! Just play and earn.
Ulti Arena is launching its Private Sale on the 12th of June 2021 at 6PM CET. There will be 10 BLN ULTI Tokens sold along with more than 3 BLN  bln Bonus Tokens for early investors (5% of max supply) at $0.0001 a piece. The maximum supply of all ULTI's tokens is 250 BLN. The rest will be on presales, earned through community mining and by launching ULTI's on cryptocurrency exchanges and DEX'es (decentralized exchanges such as PancakeSwap).
One important feature of ULTI's token is that it can generate passive income. All platform fees from selling NFT game assets, UI's or music along with 2D/3D collaboration tools, job matching engine – will be shared with all token holders. 30% of all those revenues will go straight to ULTI Token holders' wallets.
For further information visit https://ultiarena.com/ – or join TG https://t.me/ultiarena