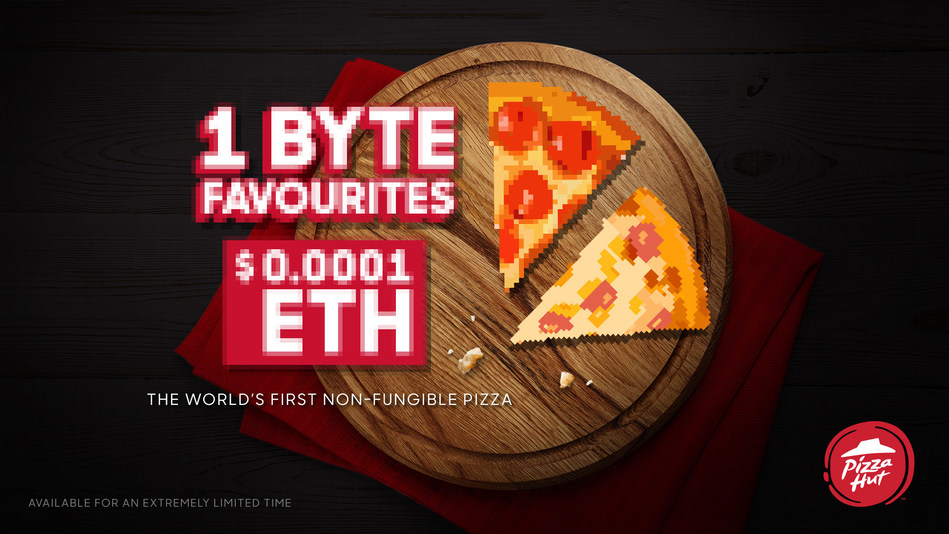 Digital pizza, anyone?
Pizza Hut Canada has recently announced the debut of its "non-fungible pizza (NFP)", 1 Byte Favourites — the first of its kind in the world.
The super rare collection features a limited quantity of Pizza Hut recipes in their 8-bit glory and will be available from March 16 onwards.
Every day at lunch time, Pizza Hut will drop a new highly exclusive pizza "slice". Collectors will definitely have to fight for the last slice.
The prices of the NFTs on crypto marketplaces tend to go for record highs, however the prices of 1 Byte Favourites go the opposite direction. The price of the 8-bit slices is around the cost of one real bite of pizza, or 0.0001 ETH.
Collectors will find Pizza Hut's favourite recipes like Hawaiian, Pepperoni, Canadian, and Margherita on the NFP menu. These unique and original tokens are available on Rarible for a limited time but will last for a lifetime.
"We're really excited to launch 1 Byte Favourites as an opportunity to give fans another way to get their hands on their favourite Pizza Hut recipes, even if it's virtually," says Daniel Meynen, the Chief Marketing Officer of Pizza Hut Canada. "It's a fun way to deliver our Favourites on an emerging platform where people can truly appreciate the perfect pan pizza forever."
The launch of this collection works as a marketing move to get Canadians to anticipate Pizza Hut's upcoming $10 Favourites promotion.