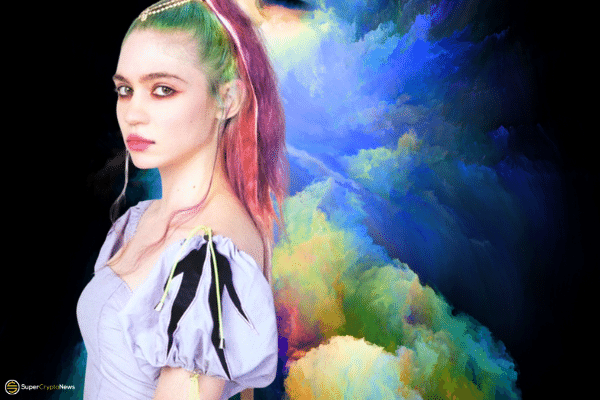 With more artists and celebrities jumping onto the Non-Fungible Token (NFT) bandwagon, Grimes is joining in for the ride too — by putting her very first crypto art collection up for an auction over at Nifty Gateway.
Named WarNymph Collection Vol 1, Grimes and digital artist Mac Boucher's work of collaboration consists of 10 artworks in the form of NFT.
In under just 20 minutes, the auction brought in more than US$5.8 million, turning it into one of the top performing NFTs out there. As of writing, the auction is still ongoing with the last of the collection up for bids and the current highest bid at US$200,000.
The collection is officially described as "a digital entity spliced from a pixel DNA of the organic human, Grimes. Merging the raw images of a photogrammetry scan, enunciating her iconic tattoos, with a retopologized mesh that was sculpted, modelled, and morphed into a variety of forms before being permanently sealed into the body of a baby angel, a cherub. She exists in the liminal state of the virtual world, a Grimes narrative universe, within an alternate history of mythology and the infinite fragments of the future."
Besides her status as a pop celebrity, Grimes is also known to be the spouse of Elon Musk, who is a famed and active figure in the world of crypto himself. Perhaps it is of no surprise that Grimes would enter the crypto realm eventually.