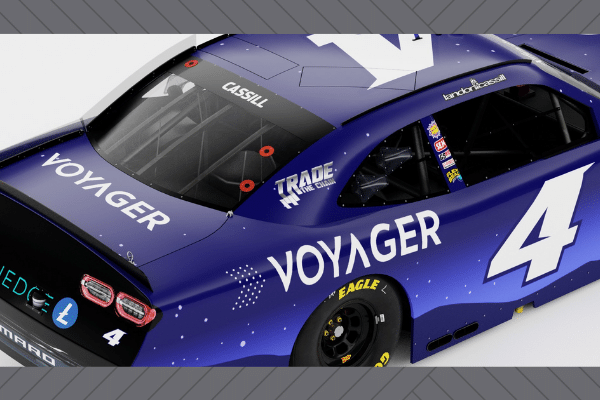 Trade The Chain (TTC), a global community of cryptocurrency traders and aficionados, has partnered with NASCAR driver Landon Cassill to sponsor his race car. This makes TTC the third crypto firm to partner with Cassill.
TTC will be sponsoring Cassill's car with various types of crypto assets including the stablecoin USDC and TTC Community's governance token SENT.
The car in question is part of the JD Motorsports team and driven by Cassill during the NASCAR Xfinity Series in 2021. The TTC branding will be displayed on the car — alongside the primary sponsor Voyager Digital — for the remaining 16 races this season.
Landon Cassill is a rising star in NASCAR, and his determination to succeed is a huge part of why we partnered with him. He is the most prominent crypto-native driver on the circuit, and we're proud to call him a member of our global community of traders.

Alex Mascioli, Co-founder of Trade The Chain
I'm excited to partner with Trade The Chain because they embody the community-first ethos that I grew up with and have fostered my fanbase around. Many of my fans also trade crypto, and are part of the Trade The Chain community, and so am I, which played a huge part in me wanting to represent Trade The Chain going forward.

Landon Cassill, NASCAR Racer
TTC's global Discord community is filled with members of all ages and backgrounds across the world. The members take advantage of actionable alerts and real-time sentiment analysis in order to make more informed trading decisions.
The Sentiment Token (SENT) was launched on June 5, 2021 at the Bitcoin 2021 Conference in Miami.