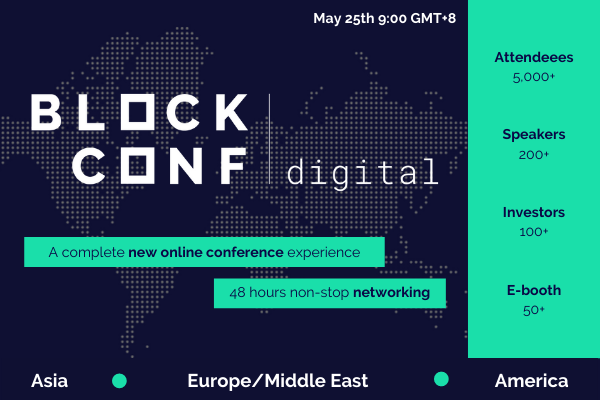 In these unprecedented times as businesses and citizens across the globe rapidly adapt to changes in their lifestyles, even cryptocurrency conferences have shifted into the digital space, transforming conference events as we know it. Blockconf Digital is replicating physical crypto conferences on the digital plane so both attendees and advocates in the blockchain and crypto industry can continue to connect with each other, exchange knowledge and ideas, and drive technology adoption further.

SuperCryptoNews is officially collaborating with Blockconf Digital as a media partner. Blockconf Digital begins early on May 25 2020 at 9am (GMT+8) and will feature representatives from leading crypto firms in the industry, such as Binance, Kraken, MakerDAO, RSK, BeQuant and key opinion leaders such as Adam Back and Peter McCormack.

Organized by Hong Kong-based Fintech Advisory Services and STO Managers, attendees can get free access to the conference from their mobile devices or laptops, access e-booths to speak to company representatives, listen to speeches, schedule private meetings and network constantly throughout the two-day event.

"We are very excited to see the transformation and how fast the conference market is adapting to the new scenario. BlockConf DIGITAL is our 2 cents to join that trend and also going further with a whole new concept of online networking," shared Juan Manuel Domínguez, organiser of Blockconf Digital.

Tickets are available on the official Blockconf Digital website and attendees can access panel discussions, speakers' stages and e-booths with a free pass. Business and VIP passes are also available, where the perks include:

Speaking with guest speakers
Scheduling private meetings for further networking
VIP event and e-booth access
Downloadable offline materials
E-workshop participation and more
Exclusive Discount for SuperCryptoNews Readers
In partnership with Blockconf Digital, we are very happy to offer SCN readers 15% off VIP passes under the code BlockConfDB15off on the official website.