Image Source: Binance.com
Australian bushfires are sweeping across the continent, leaving devastating results in their path. Since the start of bushfires in 2019, more than 10,000 sq.km. of area has been burned, 2,500 buildings has been destroyed, 25 people has been killed, and nearly half a billion animals likely to lost their live in the blazes. To put this into perspective, the affected areas are almost the size of England. New South Wales is being the most affected, bushfires has destroyed more than 5,000 sq.km in the state alone. The bushfires, with their massive size and ferocity, dwarfed the other similar incidents in comparison. The Amazon fires saw about 9,000 sq.km. burned, while the 2018 California fires claimed about 8,000 sq.km.
Binance Charity Foundation, the blockchain-base charity platform of the world's leading cryptocurrency exchange Binance, has announced it will initiate the Australian Bushfires Donation project to alleviate the impact and help with the restoration afterward. The exchange has decided to donate 1 million USD worth of their cryptocurrency BNB to the project as an initial boost.
Image Source: news.com.au
"It is painful to see the bushfires burning across Australia as well as the devastating effects on the ecology and local community. We want to help this urgent crisis," said Changpeng Zhao, Binance CEO.
The Australian Bushfires Donation charity project accepts BNB as donation. The power of blockchain technology, which is transparent and immutable, allows the public to verify the donation and ensures that the fund would be allocate to the most needed sections of the affected areas.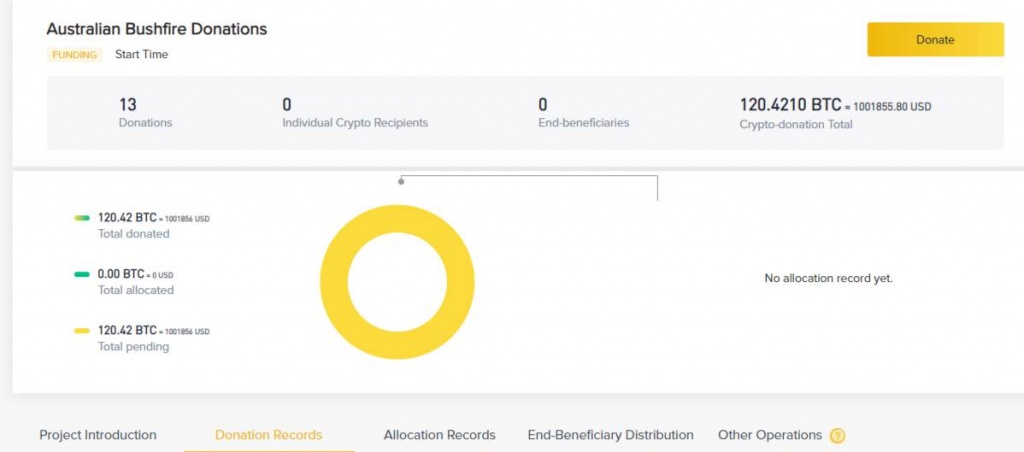 Image Source: https://www.binance.charity
You can join and donate to the Binance Charity Foundation in supporting Australia here https://www.binance.charity/Australian-Bushfire-Donations