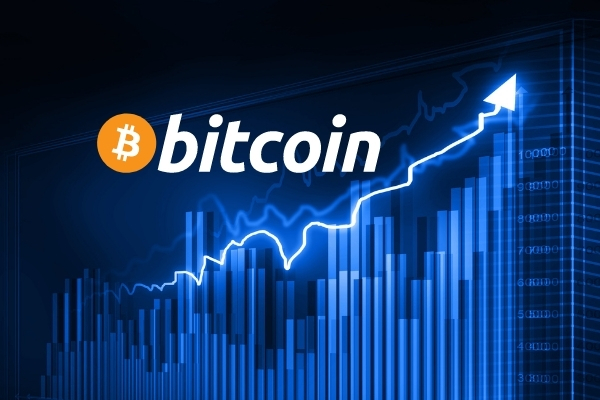 In my newsletter, Crypto is Easy, I look at big trends, not the day-to-day movements of prices.
There's never a bad time to buy bitcoin, but some times are better than others. It's more about knowing the risks and opportunities and making a decision that feels good to you.
What's your timeframe? Tolerance for risk? Mindset? What do you want to get out of the market?
Even though bitcoin's price has cooled off for the past two weeks, it remains on course to reach $100,000 by May 2021.
Will it continue that course?
We'll see. It's realistic to expect bitcoin's price will go up for another month or two, hit its market cycle peak, then drop significantly. Like, 60–80% or more.
It's also realistic to expect a pretty major crash now, or at least a few months of consolidation while the market settles down.
It's not realistic to expect the price to keep going up at this pace through the end of the year, even though everybody seems to think it will.
I recently published a lengthy market update for subscribers going into more detail. Read below for a summary.
Strength is fleeing the market
Everybody's talking super-cycle and last chance and this thing will never crash and institutions buy every dip.
We don't have any evidence of that. From previous updates, we know 2021's ascent is being driven by retail investors — people like you and me.
Grayscale net flows have dwindled for weeks.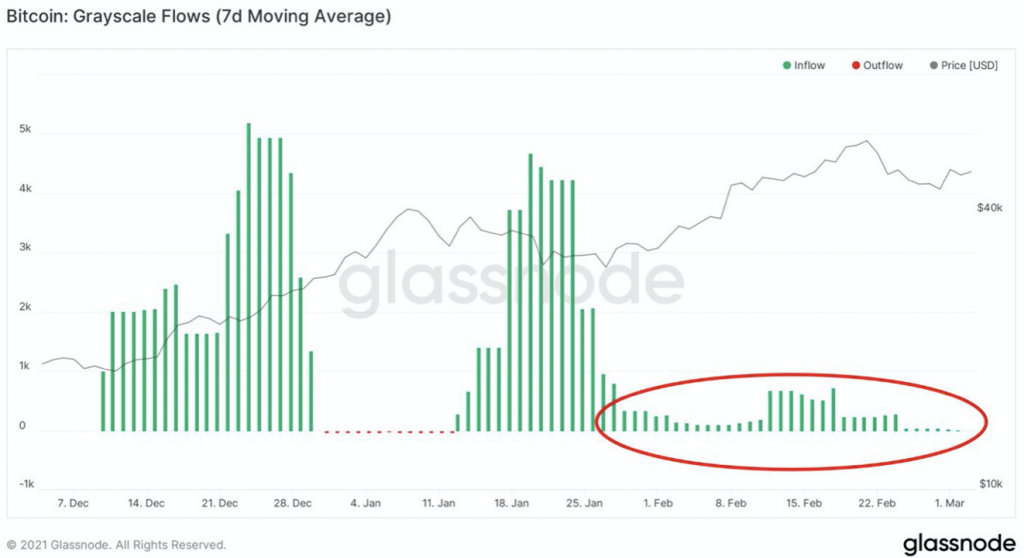 aSOPR, a measure of market sentiment, remains above its 1 baseline, suggesting people do not care about their bitcoins very much and will more readily trade them for something else.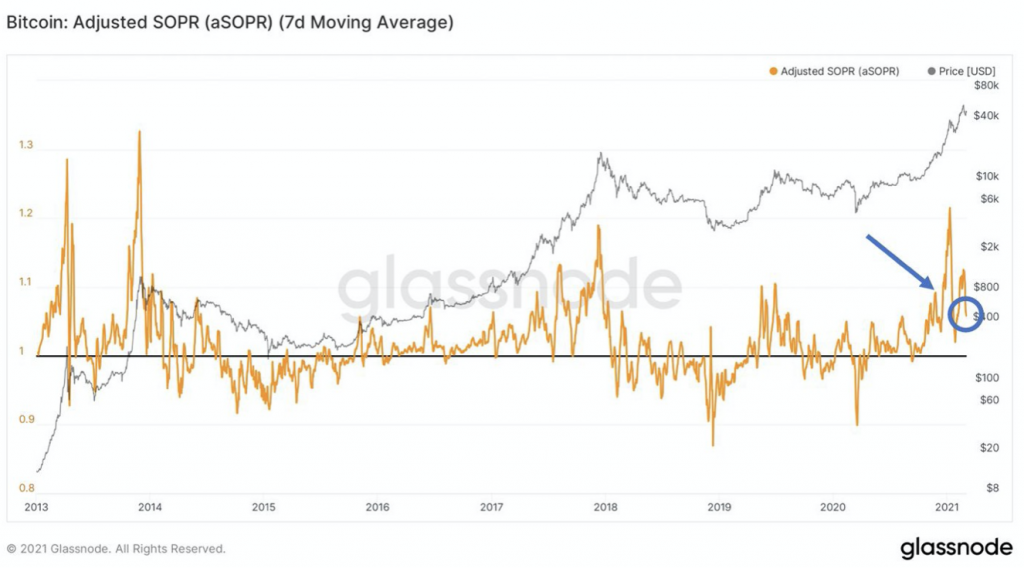 Realized cap HODL waves show the same movements we see as bitcoin approaches a market cycle peak, with long-term HODLers abandoning their bitcoins to short-term HODLers and those short-term HODLers shuffling their new bitcoins to even more-recent buyers.
You can see this in the chart below, which lumps short-term HODlers into colored bands. The shortest-term HODLers, 24 hours or less, are at the bottom and 1–3 month HODLers are at the top. The peaks are circled.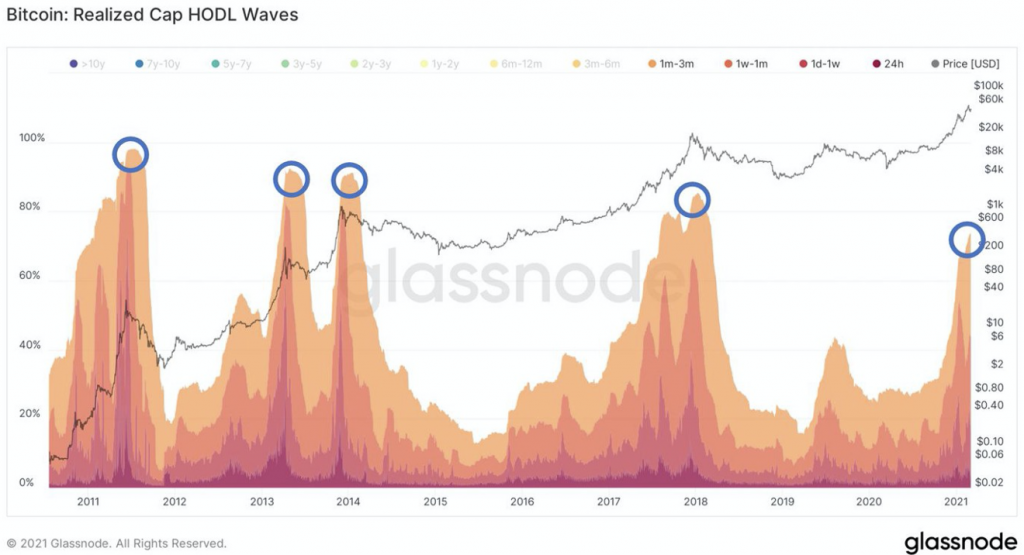 These HODL bands spiked up a lot in 2021, approaching mid-70% and getting closer to previous market cycle peaks.
These short-term HODL bands keep growing.
If institutions are really HODLing, we should see these bands level out or drop as institutional bitcoins go to older HODL bands at the top of the chart, not newer ones at the bottom.
But we don't see that. Instead, we see bitcoins continuing to flow to newer wallets.
While they're still a little ways away from those previous peaks, they may not need to get to those levels. You can see the peaks keep trending down with each market cycle, from 96% at the first peak in 2011 to 85% for the most recent, December 2017.
Perhaps we can expect this cycle to end lower than the others. That would follow the trend.
As I've shown in previous updates, it's unlikely those moves correspond to institutions or their custodians moving bitcoins around within the same portfolio, e.g., from large wallets to small wallets, old wallets to new ones. At least, if they're doing that, they're not doing much of it.
Maybe institutions and corporations simply don't hold enough bitcoin to change the trajectory of the market?
We shall see.
Meanwhile, I'm not buying or selling. Just sticking to my plan.