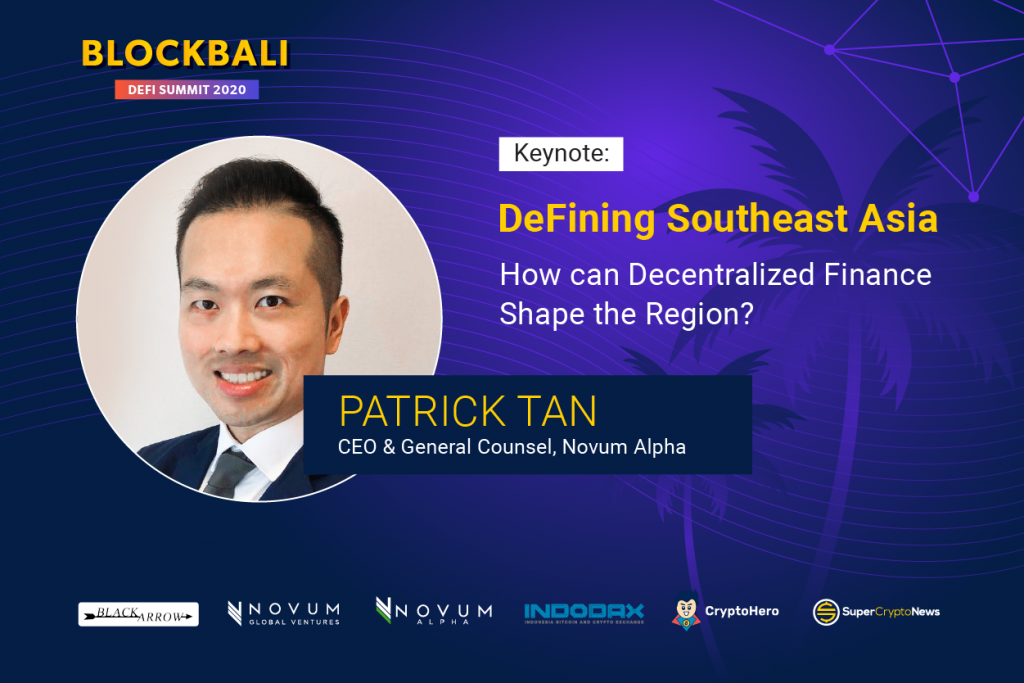 Speaking at Blockbali 2020, Patrick Tan, CEO and General Counsel of Novum Alpha, a quantitative digital asset trading firm based in Singapore, gave the opening speech at one of Southeast Asia's most established digital assets conferences. He touched on the DeFi landscape in Southeast Asia and how it can shape the region.

Tan kickstarted the show by portraying Southeast Asia region's current landscape with substantial figures of the mobile penetration rate (133%) and unbanked population. Tan highlighted that in highly populated countries like Indonesia, the Philippines and Vietnam, 80% of their citizens are unbanked. In contrast, Singapore has only about 2% without access to a bank account. Apparently, access to financial services is a key ingredient for economic development and this is where decentralized finance or DeFi comes in to bridge the gap.
With the use of immutable smart contracts built atop the Ethereum blockchain, a DeFi loan is a tool where borrowers and lenders put up their collateral, govern payments of interest and secures the collateral in the event of default. According to Tan, the ability to earn interest, even with small sums of money, represents a significant step forward for financial inclusivity, providing greater security, as well as opportunity for the unbanked to participate in the financial system.
Apart from the borrowing and lending features, Tan pointed out that businesses are also actively working on fund structures that would only be possible in the DeFi space.

"Where once, access to fund managers and other institutional investor-grade vehicles was limited to the well-heeled, a handful of firms are working on making investments available to investors of more modest means, through smart contracts and DeFi."
Remittances are another area where DeFi can also revolutionize fund flows in Southeast Asia. With over 20 million migrant workers from Southeast Asia and remittances accounting for as much as 10% of the GDP, "the region is not sitting back and doing nothing", said Tan. As DeFi liquidity pools are pitting fiat currency-backed stablecoins against each other in smart contracts, this could provide an increasingly frictionless means to both remit money, as well as facilitate currency swaps.

"With as many as 80% of central banks worldwide actively studying the issuance of their own digital currencies, it is only a matter of time before DeFi can be leveraged to both improve the efficiency of foreign exchange as well as reduce friction in remittances."
In terms of regulations, Tan mentioned that governments may also take umbrage at DeFi's ability to avoid the existing tax regime altogether. With the decentralized design, governing DeFi projects run by its community would be "challenging at best and impossible at worst". However, Tan believes that even though being both a tool for good and evil, its development cannot be dismissed.

Countries within the region have now recognized DeFi's potential. "Despite some initial speed bumps for digital currencies in Vietnam, the country has since seen a blossoming of several DeFi protocols," said Tan. Meanwhile, Singapore is speeding up for its digital banking licenses next year and countries from the Philippines to Indonesia are all looking into how blockchain technology as well as DeFi can generate even more value for their economies.
You can also watch Patrick's full keynote here:
You may also want to read: Why Will Non-Fungible Tokens Sustain The Next DeFi Revolution?