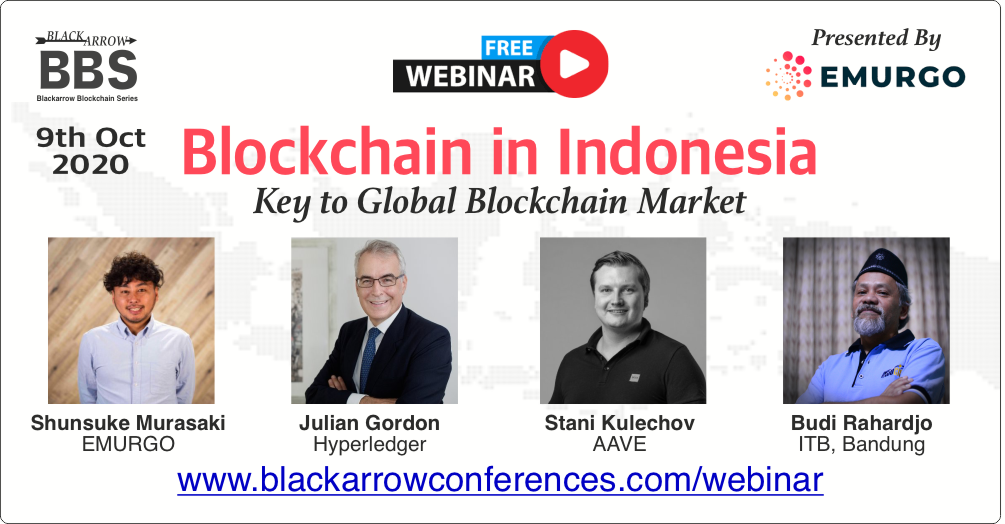 Get to know first-hand about blockchain technology use & adoption in Indonesia through our expert speakers. Learn more about blockchain implementations in Southeast Asia.
Indonesia has welcomed blockchain technology with an open response. This technology began to be used by many organizations and government agencies. This webinar will explain more about the benefits of blockchain, highlighting how important it is to study blockchain and how this technology will revolutionize business in Indonesia.
Webinar topics:
Blockchain Explained: Learn Blockchain efficiently
The importance of studying and how to learn blockchain
Blockchain implementation in Indonesia
Blockchain conditions in Southeast Asia
Global Blockchain Adoption and Implementation
Speakers:
Shunsuke Murasaki – CEO, EMURGO Indonesia
Julian Gordon – VP, Asia Pacific, Hyperledger
Stani Kulechov – CEO & Founder, AAVE
Budi Rahardjo – School of Electrical Engineering, Institut Teknologi Bandung (ITB)
Date: 9th October, Friday
Time: 4.00pm – 6.30pm WIB Jakarta Time
Register now: https://www.blackarrowconferences.com/webinar.html .
For More Information:
Whatsapp: +919833487628 | Telegram: sarfraz_blackarrow
Email: enquiry@blackarrowconferences.com