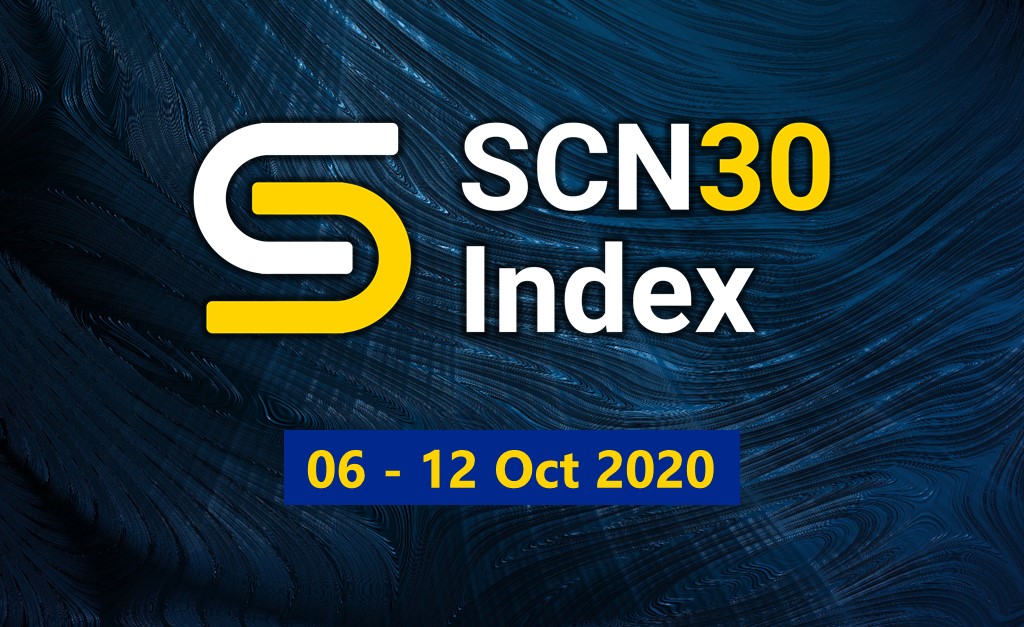 With the endless stream of bad news hitting the crypto market last week, crypto enthusiasts still cannot find any uplifting news to help spring the market back up from the slump. The weekly return of Bitcoin is relatively negative compared to other asset classes, while the DeFi sector remains stagnant after brutal sell-offs.
The SCN30 Index barely changed during the past week. The index now stands at 232 points with no significant developments to either up or downside.
The weekly return of Bitcoin (BTC) is at -1.17% while its physical counterpart, gold, is up 1.89%. The WTI crude oil down -2.91% and the US indices are recovering with Nasdaq rising 1.27% and S&P 500 up 1.70%.

With the DeFi players who were the main index movers during the past month are now all in red, two SCN30 privacy coin constituents, Monero (XMR) and ZCash (ZEC) are showing strength in terms of technical price developments. Perhaps these privacy-focused coins can give investors trading opportunities we are in desperation for.
Note: Privacy coins are unique cryptocurrencies that allow a user to gain total anonymity when making blockchain transactions. The identity of users and the origins of their transactions are completely protected.
Monero (XMR) Technical Analysis
Despite facing bad news regarding its involvement with illicit transactions and activities, resulting in bans in many countries, XMR grants a year-to-date return of 146%.
From the technical perspective, XMR recently broke above the previous yearly high and on its way to retest the 2019's high at $120. Breaking above said level would bring XMR further to test the Fibonacci's resistance at $141.
If the coin retraces back downwards, $100 which was once a resistance level XMR broke above in  late September should provide some sort of support. The short and midterm for XMR are generally bullish and reflects a rising trend.
ZCash (ZEC) Technical Analysis
ZCash (ZEC), another household name for privacy coins, also yields a similar YTD return of 140%. However, ZEC recently made a yearly high in August at the price of $103 before facing a sell-off and now being traded at $65.
In the short term, ZEC is facing resistances at $70 and $82. The mid-term target should be at the 2020's high of $103 while $50 could serve as formidable support as it has done so during the past three months.

If ZEC cannot break above $70 resistance soon, the coin can be stuck in a sideways trading range and bouncing between $70 and $50 for a while.
Disclaimer: This analysis is the view of the author's alone, and does not in any way represent trading advice. all traders should trade at their own risk.
You may also want to read: Bitcoin Will Continue to Dominate Crypto Market Despite the Rise of DeFi