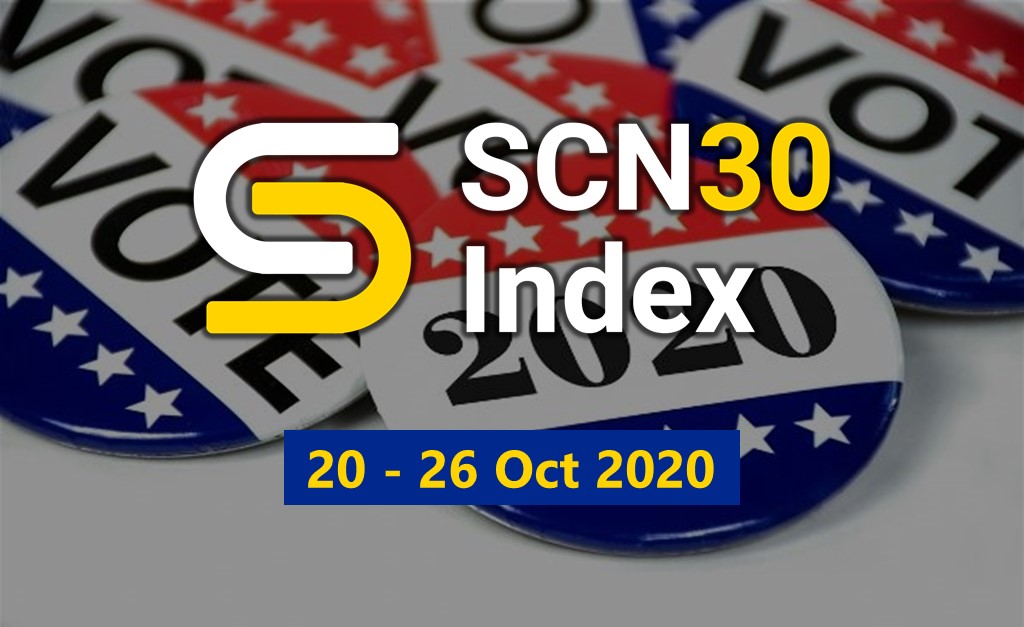 The volatility in the US stock markets caused by the 2020 presidential election and developments in COVID-19 vaccine is putting more pressure on the crypto market.
The SCN30 Index adjusted down slightly in the past week, falling -3.67% from 256.06 points to 246.65 points. The overall Altcoin market trend is still stuck in a sideways trading range with no new forces driving the market in either direction
In the past seven days, Bitcoin yielded 1.27% returns while commodities such as gold decided to go the other way with a negative return of -1.15%. WTI crude oil went bullish with a 3.83% increase in its price, a notable uptick since oil is rarely a leader of the markets. Major US indices Nasdaq went down -3.75% and S&P 500 suffered the same fate, down -3.04%.

Altcoins are scattering in all directions as it seems like each coin is now moving independently without relying on the few market leaders as usual.

Stellar Technical Analysis
Stellar Lumens (XLM) surged more than 10% after Coinbase and Circles announced the implementation of the USDC stablecoin on Stellar's blockchain. XLM is now facing resistance at $0.086, breaking above this will confirm the bullish breakout from a consolidation period.
Next targets should be at $0.092 and $0.10 to create a first major higher high. The rally up to retest the yearly high at $0.12 by the end of this year will be difficult but possible.
Dash Technical Analysis
Dash (DASH) spiked 12% since last night after multiple bounces from the formidable support level at $64. As the price failed to make any lower low, Dash broke out from the descending triangle pattern, thus creating a long white candle.
Short term resistance is located at $80, breaking beyond this could send Dash further to the $90 level. However, a pullback could cause Dash to retrace back down to $73.

Cosmos Technical Analysis
Cosmos (ATOM) is currently in a rising uptrend channel (in yellow.) The price looks like it is ready to break out from the downward trendline in blue. Breaking above the line would subsequently confirm a bullish breakout for ATOM.
The overhead resistance is located at $5.77, a clear candle surpassing the level is an invitation to follow buy. The first take profit target is $6.39 while the mid-term target is $9 which was a yearly high. ATOM price should not fall below $5 or it will lose its bullish momentum and likely plunge lower.
Disclaimer: This analysis is the view of the author's alone, and does not in any way represent trading advice. all traders should trade at their own risk.
You may also want to read: Exchanges' Transparency and Security Remain Biggest Hurdles to Crypto Industry