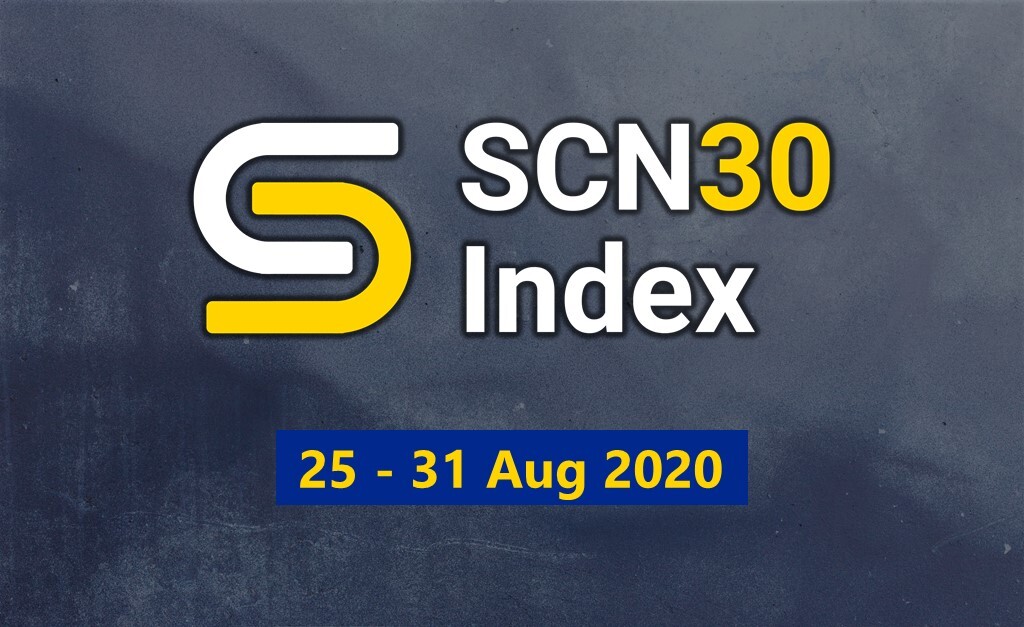 All eyes are on the COVID-19 vaccine's development resulting in a slowdown of gains for hedging assets such as gold and Bitcoin. Despite this, decentralized finance (DeFi) tokens continue to grow, especially Maker (MKR) and Basic Attention Token (BAT.)
The SCN30 Index fell 8.70% from its all-time-high (ATH) at 277.76 points to 255.51 points as a consequence of high-cap Altcoins such as Ethereum (ETH), ChainLink (LINK), and Ripple (XRP) retreating back into consolidation states. LINK was hit the hardest with a pull-back from its recent ATH at $20 down to $15, a 25% drop within 10 days.
The seven days' changes for commodities are all in the red. Bitcoin fell -4.19%. Gold is down -3.86%, and WTI Crude Oil dropped slightly at -0.86%. Equity markets, however, were seeing robust price actions as NASDAQ increased by 1.99% and the S&P 500 is up 1.22%.

As the markets are anticipating major breakthroughs in parallel with the developments of the COVID-19 vaccine, equities and tech stocks specifically are rallying to new ATHs while safe-haven assets like gold is still being traded below $2,000.

Investors are also waiting patiently for the Federal Reserve (Fed)'s Economic Symposium at Jackson Hole from 27 – 28 August as the Fed chairman, Jerome Powell's keynote on the central bank's policy will determine the overall trajectory of the markets for the rest of 2020.
MKR and BAT, the DeFi tokens listed on the SCN30 Index.
Maker (MKR) is a decentralized autonomous organization (DAO) where decentralized digital assets such as DAI are created and governed within its network, while the Basic Attention Token (BAT) has gained popularity due to DeFi lending protocol Compound allowing BAT holders to deposit their tokens and earn interest on their platform.
From the technical analysis perspective, MKR recently achieved a new ATH at $850 before a strong sell pressure pulled MKR back below its previous high at $730. Fortunately, the daily EMA9, 25, and 50 caught MKR on its track and now the token has bounced back. It is being traded above the EMA9.
In the short-term, MKR needs to reclaim a local high at $730 before attempting to test the recent ATH at $850 once again. Smashing through $850 should send MKR above toward 161.8 Fibonacci's level at $1,100.
BAT, on the other hand, is now on a clear uptrend. Since a massive drop in March, BAT's price has steadily created a sequence of higher-highs and higher-lows. In the short-term, daily EMA9 could provide some sort of support and serve as a launchpad toward the 161.8 Fibonacci's level at $0.46.
Recently, the Total Value Locked (TVL) on DeFi platforms has yet created another ATH at $6.7 billion. MKR has the highest market share at over 21%, according to DeFi Pulse. The overall bullish momentum and high rate of adoption in DeFi suggests that there is still more room to the upside for these DeFi tokens.
Disclaimer: This analysis is the view of the author's alone, and does not in any way represent trading advice. all traders should trade at their own risk.
You may also want to read: Tech Stocks Bubble Could Actually Benefit Bitcoin?