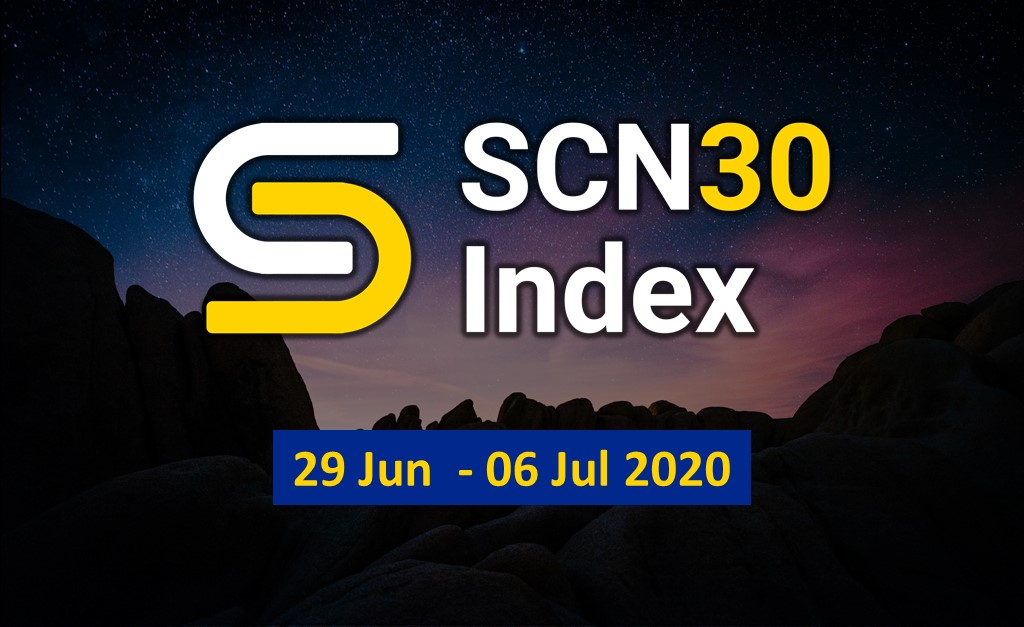 Above: Screengrab of SCN30 graph here.
Bitcoin remains to be volatile with no clear trendline, possibly due to fears of the economy caused by a potential second COVID-19 wave after cities are opening up and closing back down. While SCN30 seems to be doing progressively better by June, we're currently back at 148.17 points bouncing back from month's lowest at 145 points just two days ago. A week ago, SCN30 saw a significant dip across 3 days from 23rd June, similar to Ethereum dropping to its month-lowest at US$218.51.

Fear seems to cloud predictions on Ethereum prices despite developments on Ethereum 2.0; It has been interesting watching Ethereum lately. From uncertainty around price movements caused by whales – or frauds, such as when PlusToken tried moving millions worth of Ethereum recently to the fluctuating gas fees which at one point cost a million dollars. It seems that the direction of the trendline will be determined sometime only in mid-July while both Bitcoin and Ethereum have been trading sideways.

Above: Screengrabs of SCN30 list here.

It's the first week since SCN30's launch that no constituents moved a position. Most of our top 10 constituents are in the reds today with Cosmos coin (ATOM, -1.09%) and Bitcoin SV (BSV, -1.05%) being the biggest losers. HedgeTrade (HEDG), however, sees a +4.54% gain today.
DeFi Carving New Trends
Amongst the altcoins, it seems like whales of Basic Attention Token (BAT) have been pretty active the last week. This is all thanks to the recent DeFi (Decentralised Finance) trend of yield farming which allows users to deposit cryptocurrencies and yield a higher rate of returns up to 100%+. When DeFi tokens such as Kyber Network (KNC) and MakerDao (MKR) have proven to be performing better than Bitcoin within the same period, the new love for DeFi tokens is not unfounded.
You may also want to read: When Bitcoin Trends Sideways: How to Survive the Kangaroo Market