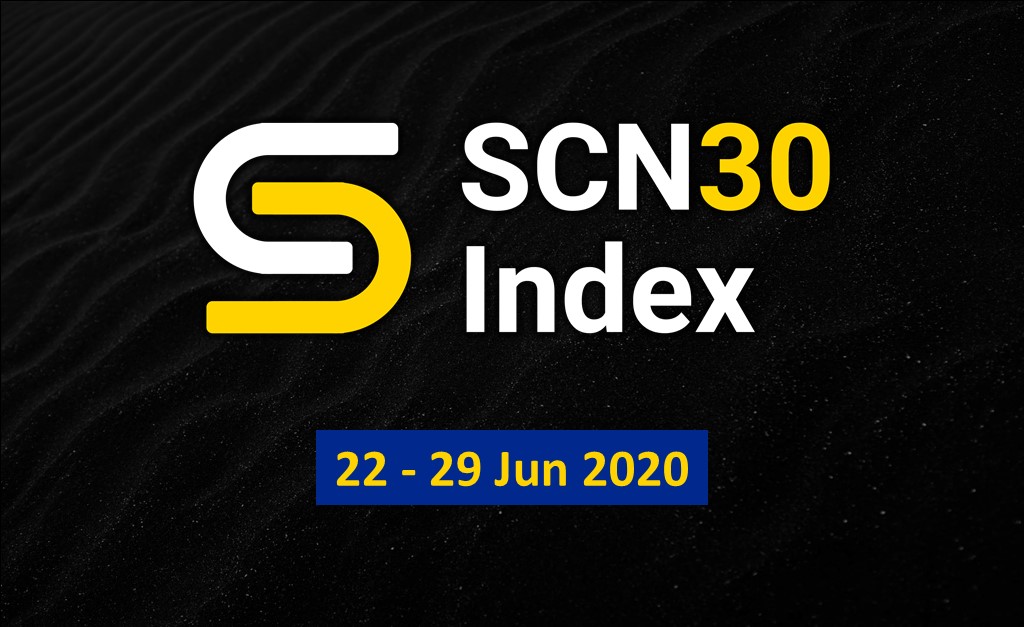 Above: Screengrab of SCN30 graph here.

SCN30 now stands at 153.42 points, just one point more from a week ago. While the week's trend seems to be fluctuating, Ethereum (ETH) alone has had a price surge, is currently trading at US$234 at the point of writing, and still remains to be bullish. Similarly for Bitcoin, it has rebounded from last week and is currently trading at US$9,400 which is above the crucial support level of US$9,000-US$9,300.

In comparison to tech stocks that are performing significantly well at a 14.61% year-to-date (YTD) gain, Bitcoin has outperformed with a 30% YTD gain. This year, SCN30 index started at 100 basis points and as covered in our Market Summary this week, the gain in 54 points from the beginning of the year indicates that large-cap altcoins are still doing well better than Bitcoin.

Above: Screengrabs of SCN30 list here.

The movements between constituents seem to be most active in the bottom 10 of our list. The entire list of constituents are also gaining (by day) except for just two altcoins here – Crypto.com Coin (CRO) and UNUS SED LEO (LEO) at -0.13% and -0.66% respectively. CRO is seeing an overall 260% gain across 3 months and it does not seem like it will be slowing down anytime soon. It has managed to hold itself at the 8th position in the constituent list despite fluctuations.
Just a few days ago, Ontology (ONT) announced a Bitcoin Suisse partnership for a European expansion and is currently seeing a 3.76% increase in its price (day). In June, Ontology has been busy working on partnerships and preparation for its 2-year anniversary of the main net launch which includes new feature releases, as announced by Li Jun, Founder of Ontology during an interview. Our constituents seem to be performing relatively well.
You may also want to read: Tech Stocks and Digital Assets: New Normal Investment Vehicles