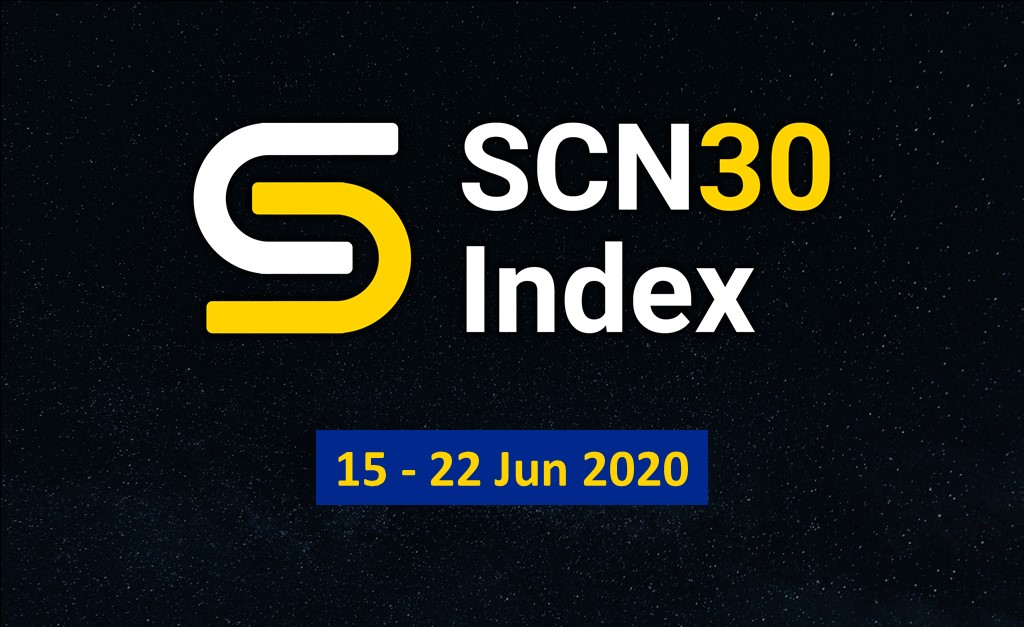 Above: Screengrab of SCN30 graph here.

Bitcoin is now trading slightly below US$9,000 which breaks a critical support line from 2015. At one point, Bitcoin dipped US$300 on 12 June. SCN30 dipped earlier on 11th June followed with a slight rebound across the next couple of days, finally reverting to a downward trendline on 14th June hitting week-lowest at 146. However, it is still almost doubly higher than year's lowest in March.
Ethereum, which weighs 20% in SCN30, is still on an overall ascending trendline from March. The interest in Bitcoin seems to be dwindling as effects from the halving event fade and the market is now trying to adjust to the "true value" of Bitcoin. For Ethereum however, the opposite seems to be true as we prepare for Ethereum 2.0.
Above: Screengrabs of SCN30 list here.

Our Top 10 constituents seem to be more active this week, with Crypto.com Coin (CRO) moving up by 2 positions. Interestingly, the gains could be contributed by its recent recognition and brand awareness made possible on Twitter with a branded emoji and hashtag – so random that even the community was puzzled. Unsurprising, however, as CRO is the coined to be the darkhorse of the year to be watched as one of the top-performing altcoins.
You may also want to read: Bitcoin still Outperforms Stocks; Larger Gains to be Made in Altcoins