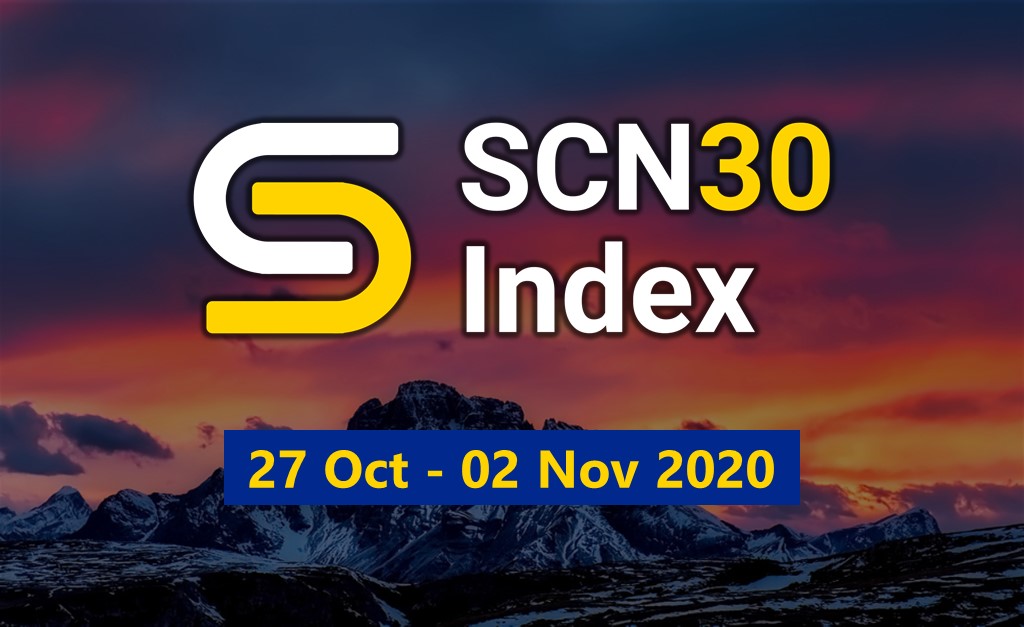 The high volatility caused by the upcoming presidential election amidst the widespread global pandemic and looming economic crisis continues to wreak havoc globally. While stock markets and traditional assets are walking on a tightrope, cryptocurrencies have hijacked the spotlight and taken the lead this week.

The SCN30 Index rose slightly since last week from 246.65 points to 255.01 points or a 3.38% increase. The overall structure of the index still trends sideways as there is no new fundamental support to bump up the price except for PayPal's crypto integration announcement.
During the past seven days, Bitcoin (BTC) yielded 11.18% returns as its legacy counterpart, gold, slumped slightly with -0.40%. The WTI crude oil dropped further by -5.31%. The major US stock indices Nasdaq plunged -1.12% and S&P 500 fell -0.76% as the election draws near. 
The DeFi market which a couple of months ago was a crypto market powerhouse seems to have fallen into hibernation. Top-performing Altcoins as of now are old-school cryptocurrency tokens like Litecoin (LTC), which PayPal intends to support with its new feature, as it yielded a 17% gain, while Bitcoin SV (BSV) experienced an unexpected uptick at 8.68%.

Litecoin Technical Analysis
Litecoin (LTC) has risen back above the $54 level which is the 0.5 Fibonacci's retracement level. Bouncing from the level will send LTC to retest the 0.618 Fibonacci's at $64 which is in line with the suppressing trendline in yellow. Rising above said resistance will send LTC toward $72 and $84 levels respectively.
The larger structure of LTC is a multi-month long sideways consolidation period. A recent push with the help of Bitcoin's bullish momentum might be able to help Litecoin breakout from this compressing triangle. Failing to do so could send LTC back to retest the bottom of the triangle at $40 for the third time.
Bitcoin SV Technical Analysis
Bitcoin SV (BSV) fell into the multi-month long consolidation period similar to LTC but now attempting to break out from the symmetrical triangle for the second time. The overhead resistance lies at $200 with a short term target at $225.
Failing to break out soon will force BSV price to be compressed into the triangle's tip with a support at $150. The midterm target is located at $250 if the breakout to the upside happens which is also a previous top achieved in late July.
Disclaimer: This analysis is the view of the author's alone, and does not in any way represent trading advice. all traders should trade at their own risk.
You may also want to read: Disruptive Assets are the Future – Crypto and Tech Stocks Dominate the Market