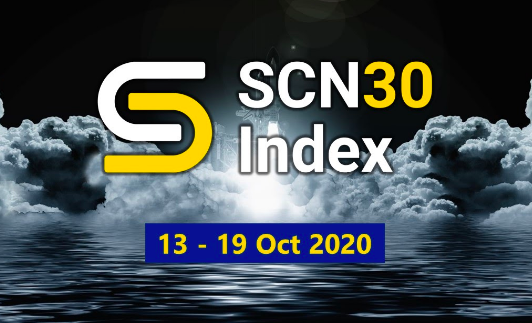 Volatility is back across markets as we see Altcoins rising in tandem with the US stock equities. Bitcoin is now attempting to break 11K and gold is back above $1,900/oz once again.

The SCN30 Index broke out from a sideway price accumulation phase to 256.06 points, featuring a 10.34% gain. Major players pushing the SCN30 Index upward are in the DeFi sector where fresh liquidity seems to be flowing back into the risk-on market as investors seek to make a quick buck.

During the past week, Bitcoin (BTC) yielded a +8.79% return while its traditional counterpart, gold rose +0.45%. WTI crude oil barely moved, adjusted up slightly at +0.84%. The Nasdaq (NDX) surged +5% and the S&P 500 (SPX) followed closely at +3.68%. The SCN30 Index, however, blew past other assets with a double-digit gain.
BNB Technical Analysis

Binance Coin (BNB) is on the verge of creating a new yearly high above $33 as it surged almost 9% during the past 24 hours. Breaking above the previous high will send BNB to retest the all-time high level at $40 which also serves as 1.618 Fibonacci resistance level.

On the flip side, BNB's first layer of support lies at $27, but with a series of higher highs indicates that BNB is still on a clear uptrend path.

ADA Technical Analysis

Cardano (ADA) one of the top-performing mid-cap Altcoins of 2020, faced a major sell-off after a surge to its yearly high back in August. The upward trendline in yellow still provided support for ADA as it bounced and successfully smashed through the 1.618 Fibonacci resistance at $0.105 to the upside.
The $0.105 resistance now should serve as a support level with the upside target at $0.13 which was a previous local high. In the mid to long term, $0.16 which is both the 2020's high and the 2.618 Fibonacci's would be deemed as a formidable resistance level.

OMG Technical Analysis

OMG Network (OMG) successfully created the first major higher high since the swing-low at $2.44 in late September. If the momentum continues, the next target should be at the $4.5 level and the mid to long term target will be located at the 0.618 Fibonacci's level at $6.15.