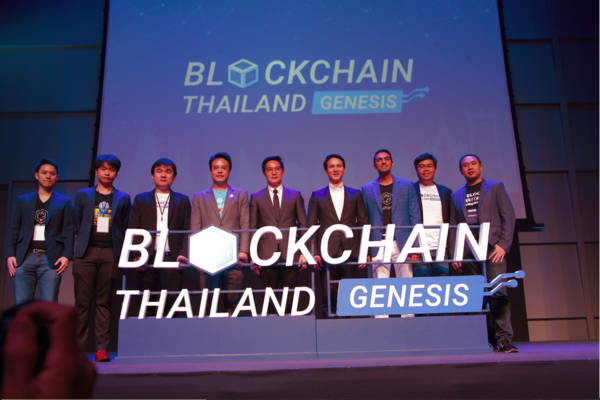 Blockchain Thailand Genesis 2019, Thailand's largest blockchain and digital assets event attracted a crowd of nearly 3,000 attendees, including many blockchain and crypto enthusiasts last weekend. This year, Blockchain Thailand Genesis welcomed Mr. Ne Win Chunchai Thit, Deputy Minister of the Ministry of Digital Economy and Society, on the main Genesis Stage to share his vision on how blockchain will transform Thailand's digital economy.
"Nowadays, we cannot deny that the world is changing at a fast pace with innovation and digital technology. According to the World Economic Forum (WEF) study, 60% of global GDP will come from the digital sector by 2020, so the power of digital technology in influencing current economic systems and the whole of society in countries worldwide, including Thailand, is apparent," he shared during his speech.
The ministry also recognises the blockchain technology will play a large role in the future. What this means is that decentralisation and transparency is made available throughout all processes, and there is mutual agreement from all parties before any action is carried out.
In Thailand, blockchain technology is most applied in the finance and banking sector. A very good example would be the provision of electronic letters of guarantees by Blockchain Community Initiative (BCI) Thailand to a consortium of 22 financial entities, mainly traditional banks such as BNP Paribas, Citibank, CIMB Thai, HSBC, UOB and more.
The WEF study also mentions that there are more than 12,000 blockchain service patents across the United States, Japan, South Korea and Germany. 512 were filed by Alibaba Holdings, followed by the United Kingdom's Nchain at 468 and IBM with 248.
Blockchain technology is also has many other uses aside from facilitating the creation, buying and selling of cryptocurrency; even the sale of electricity in housing projects can benefit from the integration of blockchain. However, there are still obstacles to fully using blockchain systems to replace current ones due to security and regulatory issues.
Blockchain Thailand Genesis saw the appearance of many prominent invidivuals both in and outside of the cryptosphere. Dr. Satthaya Kornsut, Deputy Director of the Office of Digital Social Workforce from the Digital Economy Promotion Agency (Depa) in Thailand spoke on the topic of guidelines on marketing blockchain and also developing a workforce familiar with blockchain. Dr. Naphan Nuanphanwasan, Director of Financial Technology Promotion from Thailand's Securities and Exchange Commission (SEC) focused on digital asset supervision.
Bringing together leaders in various sectors in Thailand, this event was an opportunity to drive the Thai community to better prepare themselves for the arrival of blockchain technology, as this will undoubtedly create a fundamental shift in processes and transactions across the world in the areas of business, finance, investments and government services. Under the concept of 'The Future of Financial Disruption', companies and individuals across several industries will need to ready themselves for the challenges that blockchain will bring.
The event was led by the Thai Digital Asset Association with the objective of educating the public and alerting them to possible fraud in this industry. It was co-organized by several leading blockchain and crypto media and publishers, such as SuperCryptoNews, Siam Blockchain, Bitcoin Addict, Asia Blockchain Review, together with Cryptomind, a full-fledged consulting firm in Thailand. Blockchain Thailand Genesis also received the support of government agencies such as the Ministry of Digital Economy, Thai SEC and Depa. In the private sectors, companies such as Novum Global Consultancy, Bitkub, Velo and more.