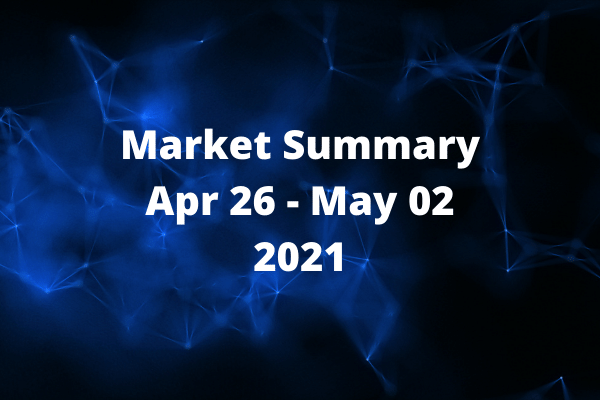 Last Week Recap
After our last market summary in which our editorial team opined that Binance BNB price may rally, the price of BNB shot up to recover most of its loss within the next 24 hours. Dogecoin's enthusiasm seems to taper off but seems to be strongly supported at the 25 cents to 30 cents range.
One of our mentioned crypto token in our last weekly summary – SOLANA – went against the general crypto market rout (since April 18) and relentlessly formed one ATH after another.
Both BNB and ETH surged last week before falling in line. Two Turkish crypto exchanges imploded. This begs the question on whether crypto exchanges should be regulated in order to protect the general public.
For this coming week:
We

 suspect a tactical reallocation of assets out of BTC into quality projects like ETH, BNB, UNI and many others. 

This does not mean that BTC has fallen out of favour. There are still BTC been bought.
Investors may want to look into quality projects and do a deep dive onto each project's traction and user base. As blockchain adoption gains momentum, it is finally time for quality projects to be recognised.
Grayscale Bitcoin Trust is facing stiff competition from Bitcoin ETFs operating in Canada. Sophisticated investors would definitely prefer to buy off an ETF vehicle. Money will find its way.
The biggest question in everybody's mind since Gary Gensler was appointed the U.S. SEC Chairman – will he approve a USA Bitcoin ETF? We suspect his approach towards Ripple's case would shed some light on his stance towards the entire crypto industry as a whole. Perhaps, an out of court settlement would be best for both parties. Continue to keep watch on this case.
Market seems directionless and appears to be in a downward trend. Daily chart shows a healthy pullback. Perhaps, it is good to allocate more to cash and buy on the dip instead of chasing up an asset (FOMO).
Binance crypto exchange has been embarking on a series of exchange upgrades. They just completed one on April 25, 2021. We continue to like BNB for their synergistic universe of products and services. Their volume continue to trounce their nearest competitors based on CoinMarketCap.
UNISwap v3 will be launching in the next couple of weeks. A game changer to DEX. We suspect UNI price may accelerate leading to the launch.
We continue to like SOL, ETH, BNB, UNI and THETA.
As usual, trade with care. Trade with what you can afford to lose.