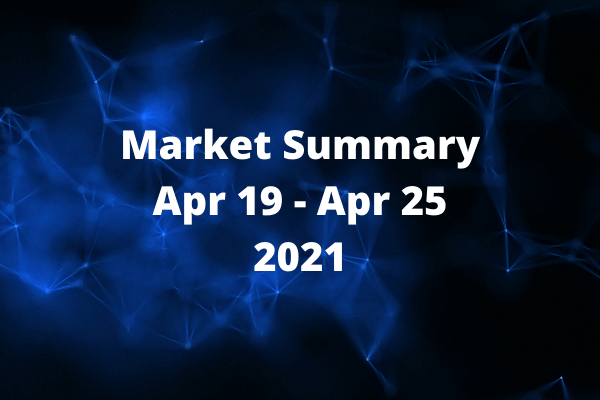 Last Week Recap
Hopefully, Sunday's market rout is over as huge selling pressure occurred in the early morning UK time. Our editorial team's view on Dogecoin bullishness came true after the whole world witnessed one of the best crypto rally in a long time. The price of Dogecoin multiplied from 6 cents to more than 40 cents, its ATH. At the moment, Dogecoin is consolidating in the 30 cents range. Our preference on SOLana has also seen the SOL token price beating the market rout on Sunday April 18.
Coinbase price on Nasdaq is still finding its footing as investors are trying to price the company. Several market analysts have generated bullish views on Coinbase.
For this coming week:
We expect Coinbase's price movement on Nasdaq to remain choppy as investors attempt to find a strong case for its multiples. As time passes, we expect the price of Coinbase to be further detached from the general crypto market. Although Coinbase will now serve as a regulated investment vehicle as a proxy for the crypto space, the huge universe of digital assets and projects would create a better return for any investors who do their homework and research
Sunday's market rout could be due to a myriad of reasons. However, a positive sentiment came from Li Bo, China's central bank governor, who opined that Bitcoin is an investment asset and not a currency itself. This may pave the way for digital assets in China to be regulated in a fairer way, therefore encouraging its use.
The new U.S. SEC Chairman Gary Gensler has finally been confirmed. Look out for his first statement regarding any crypto rulings and policies. That would set either a positive or negative sentiment as a whole.
With Gensler sworn in as the new SEC Chairman, we suspect a Bitcoin ETF in the U.S. would be more realistic than ever. Grayscale has already signalled its intention to convert their Bitcoin Trust (and in fact most of their digital asset trusts) into a Bitcoin ETF. Their existing compliance with SEC rulings would bode them well in the running to be a forerunner in launching a Bitcoin ETF in the U.S. If and when this happens, the crypto market would be super bullish. Any ban on Bitcoin ETF in the U.S. is just going to drive capital out of the country into its neighbour Canada which has already launched about three Bitcoin ETFs with more in the offering.
Binance's CEO and founder CZ has stated on his tweet that 40% of all BNB supply will be burned. This is a huge amount and should push the price of BNB higher by simple economics. Look out for BNB this week.
Dogecoin continues to be a favourite among the retail market with daily trading volume in the multi-billions. Dogecoin has definitely earned institutional interest as can be witnessed by its price action.
Other interesting tokens to watch out for: SOL, THETA, ADA, LINK and BNB
As usual, trade with care. Trade with what you can afford to lose.