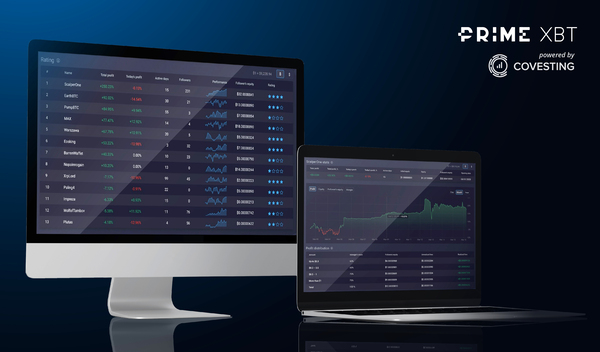 Ever since Covesting launched on PrimeXBT, the trading community has been in an uproar over who will eventually become the first five-star trader to use the award winning trading platform. Thus far, few have come very close, but no one has yet earned the status that essentially certifies that you're the best of the best when it comes to Bitcoin, gold, or oil trading.
The five-star rating system is designed to spotlight the best combination of skills, safety, and success so that overly risky or lucky traders who put up huge numbers quickly don't earn such iconic status. But because the five-star system requires strict adherence to margin usage, and for traders to show a level of commitment to the capital they have on the line, getting all five-stars has proven something that traders capable of four-digit ROI are still finding it tough.
That doesn't mean its unattainable; however, it was clearly designed to separate the best strategies from the pack and allow them to stand out to followers who are looking to maximize their earnings.
Challenge Accepted: Can You Get Five Stars With Covesting?
The first trader to make it to the five full stars will get instant fame among the community and a substantial boost to followers, and with it, potential earnings. Here's how to get it done.
Star 1: The strategy manager's equity must be over 0.5 BTC. This is the most straightforward star to get, and while it doesn't require effort or skill, it does require a serious commitment to the capital on the line. Traders that don't have this capital to deposit to start, can start small and trade their way to this star. You don't need to be wealthy to become a top trader and get this star.
Star 2: Star two is awarded for regular, consistent trading activity, taking place across 30 out of 60 trading days.
Star 3: The third star is dedicated to putting a spotlight on the safest strategies, so to get the star, traders must not fall below 60% margin allocation during the past 30-day time period. Earning this star requires careful management of margin and strict risk management.
Star 4: The fourth star is the most challenging, where traders must maintain a 70:30 win:loss ratio across all closed positions. This star alone shows off some serious skills.
Star 5: The fifth and final star has traders turning over at least 50 BTC worth of positions within the last 30 days of trading sessions. This ensures that follower funds are always hard at work, and there's no stagnancy in strategy growth.
When they say reach for the stars, they could now be talking about the five-stars required to fully show the world you are the best trader on Covesting. Even the top-ranked traders by ROI who regularly make money trading have yet to achieve this feat, but the flood gates of followers will open and take earnings to an entirely new level when they do.
It is enough to encourage all traders to take a shot at unlocking those stars and improving not only their game but the amount they earn as well. Take a shot at it yourself using Covesting on PrimeXBT today, and see if you have what it takes to be the first five-star trader.
---
This is a sponsored article by Prime XBT.