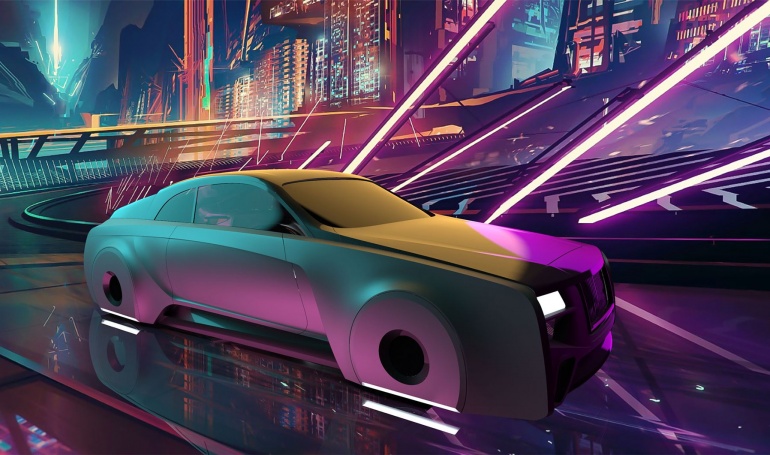 (Jbrolls Musa Tjahjono 2200)
West Coast Customs (WCC) legend Ryan Friedlinghaus' latest project will be an NFT (non-fungible token) developed on the Fyooz platform.
The CarCoin community can expect a stream of NFTs through a tiered membership program, "The CarCoin Fast Lane". The series will include the following exclusive NFTs:
Artwork by well-known customer car designer Musa Tjahjono
Collaborations with leading crypto artists
Redeemable NFT experiences with A-List, celebrity car enthusiasts
There are future plans to hold auctions of real vehicles from iconic "Inside West Coast Customs" episodes, which includes a life size Nintendo Super Mario Kart and never-before-seen original creations like "The Rocket", a high-performance electric vehicle that displays the fusion of the tangible and digital worlds.
The NFT — that unlocks a super exclusive WCC-designed vehicle — only goes to one lucky Fast Lane member. The member will also receive an NFT proof of ownership, extra digital artwork, and unlockable behind-the-scenes content memorializing this historical build. The NFT that unlocks this custom vehicle can also be received by Fyooz FYZNFT Moon Club.
"West Coast Customs has been exploring the world of crypto since 2017, but the timing wasn't right until now. With the advancements made in NFTs, the scenario we have been waiting for has finally arrived. The originality and rarity of the vehicles we proudly create at WCC align perfectly with what NFTs represent in the world of digital collectibles," said Friedlinghaus, a CEO of WCC.
"We are pleased to announce this project in partnership with such an iconic brand. Ryan and the team at West Coast Customs are as passionate about customizing cars as we are about disrupting the crypto and NFT spaces. Our partnership felt like the logical next step for both our organizations. With the cutting-edge creativity at WCC and Fyooz's innovation in the social token space, we knew we had something special," said Remo Prinz, the Co-Founder of Fyooz.
WCC was founded in 1993 by Ryan Friedlinghaus and became the premiere custom vehicle shop, known worldwide for its original designs, great quality, advanced technology and unrivaled craftsmanship. Its reality TV show, Inside West Coast Customs, featured celebrities like will.i.am, Justin Bieber and Conan O'Brien.