Macro issues weighed in on Bitcoin this past week with no signs of the deadly coronavirus in China showing any signs of slowing down. As coronavirus infections and fatalities starting from the epicenter of Wuhan in China starting growing exponentially, Bitcoin's price surged as well, hitting a fresh 2020 high of US$9,570 on Luxembourg-based cryptocurrency exchange Bitstamp last Thursday.
There are two reasons for this – likened to digital gold, Bitcoin is seen by some investors as a "safe haven" asset in times of turmoil – especially when the coronavirus has all the makings of a new global pandemic.
As news of fatalities and infections increased dramatically, Bitcoin's price increased accordingly along with greater mistrust in official figures and with many Chinese investors viewing the latest handling of the coronavirus crisis by Beijing as further evidence of the gaps in centralized solutions to what are essentially decentralized crises.
Image Source: FB: Sittiphol Phanvilai
But the ratio of fatalities to infections has also not been as dramatic as the SARS (another coronavirus) crisis in 2003 and that has put some level of resistance to Bitcoin's rise. Over the next week, as reports of infections and fatalities enter a more predictable cycle, expect Bitcoin to trade in a relatively narrow band of US$9,200 to US$9,500.
If the coronavirus mutates or the number of fatalities as a result of infections increases dramatically, expect a push above US$9,500 but with a strong resistance at US$10,000.
In the next week at least, there is little to suggest that Bitcoin will test US$10,000 – a strong technical and psychological level of resistance.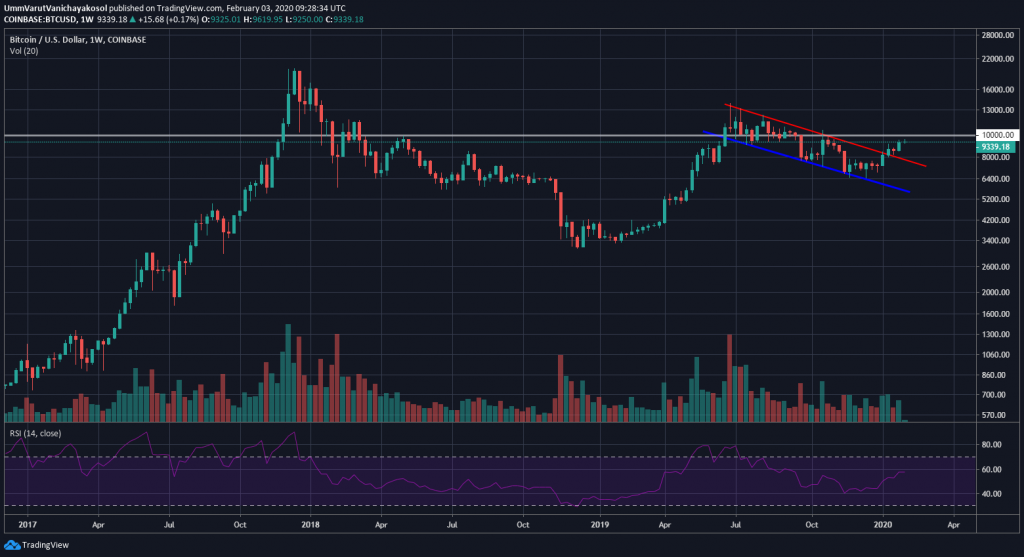 Elsewhere, other cryptocurrencies fed off Bitcoin's rise, including Ethereum, the world's second-largest cryptocurrency by market cap. Bitcoin Cash rose as well, rising some 4% in the past 24 hours, correlatedly, Bitcoin SV has traded sideways and will likely continue to trade between US$260 to US$300 with strong resistance at US$300. Bitcoin SV is not likely to see a rise again to US$360 in the next week at least.
Overall most cryptocurrencies ended the week up, as spillover interest from Bitcoin poured into so-called "altcoins." Looking ahead, those which have surged dramatically in the last 24 hours, including IOTA (20%) and Tezos (9%) can be seen as evidence of resurgent demand in undervalued altcoins.
You may also want to read: Bitcoin Halving: Next Bull Run Imminent?