Today, the crypto market is mostly seeing green, with Bitcoin hovering around the $10,400 mark after experiencing a significant downturn to $9,700 last week and Altcoins are doing incredibly well, with Ethereum and Ripple seeing gains around 7% and 10% respectively. The crypto community and many traders are no doubt waiting for the next surge on BTC prices – the important question, however, is when? We have seen the many external factors influencing the market over the past few weeks. Experts suggest that the launch of Bakkt, confirmed to be on 23 September, may be the next push factor for BTC prices to move upwards.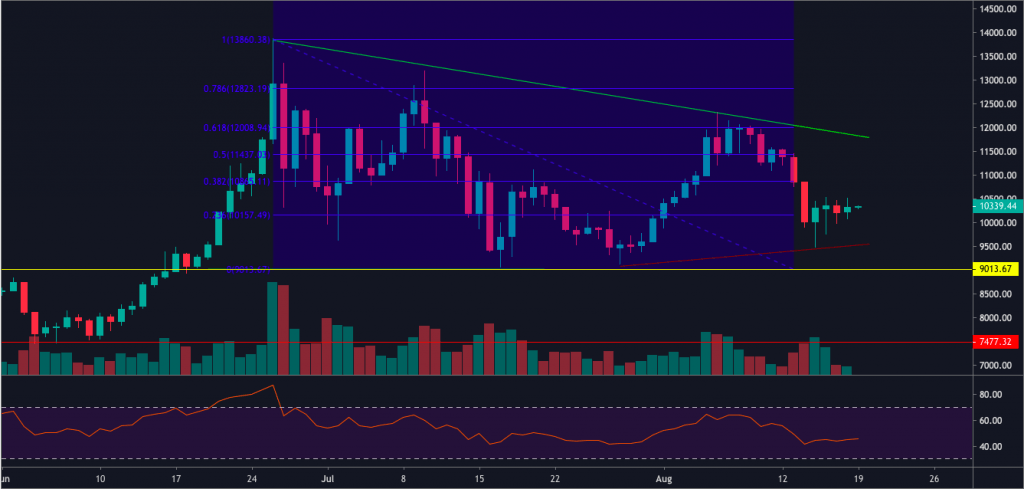 Overview: Sideways
Following the BTC/USD pairing, we can see that prices have bounced back from the support line at $10,400, indicating a positive signal. However, the mid and long-term forecast of Bitcoin shows that it is still moving in a downtrend. The primary resistance line is indicated in green, which is the same resistance Fibonacci price level at $12,000. Moreover, there is a significant support line at $9,000 (indicated in yellow line), but in the short-term the key support line is at $9,500 (indicated in red), resulting in a contraction of prices in the form of a triangle pattern.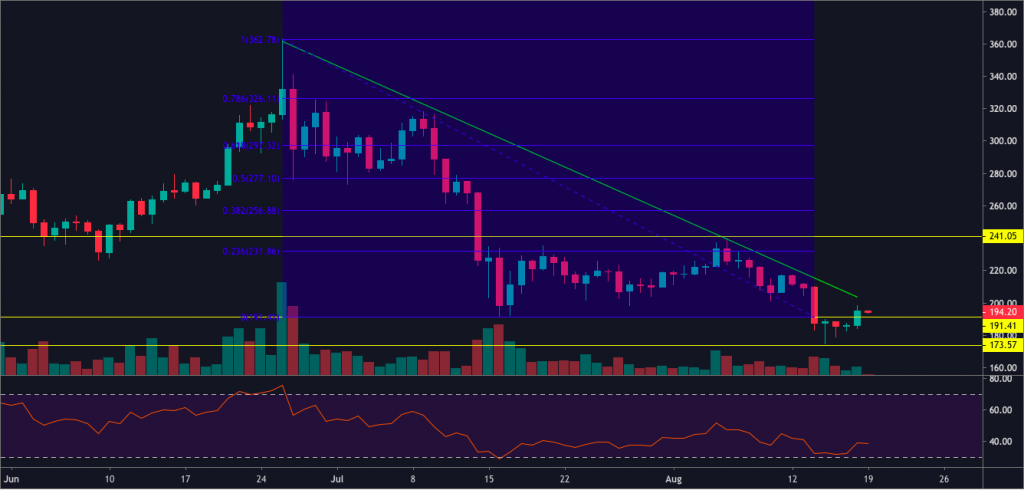 Overview: Downtrend
The primary trend remains downwards given the ETH/USD pairing falling under the key support line last week, with a support line level of $173 (indicated with the yellow line). For a turnover to occur, the pairing must cross above the green trend line. The RSI level is at 30, which suggests that in the short term, overselling may occur due to speculation and this may be a possible buying opportunity.