The advent of blockchain technology has spurred the creation of new novelties, such as non-fungible tokens (NFTS). These products can be sold or purchased on a dedicated NFT marketplace thanks to the decentralized feature of blockchain technology. Artists and other creatives have also been presented with an opportunity to make the most of their artworks by getting rid of the so-called "middlemen." Essentially, blockchain technology helps validate each NFT, offering copyrights to both the digital and physical artwork.
It's no surprise the NFT marketplace is experiencing a revolution with the collection known as Pudgy Penguins. The Pudgy Penguins NFT collection harbors a unique allure that celebrates the rich history behind the digital collectibles. The collection is an authentic work of art originally born from the creativity of four college buddies. Now, after being acquired in April by Luca Netz and his team, The Pudgy Penguins collection offers something unique to its holders and the opportunity to join a community dedicated to spreading positivity throughout the Web3 space.
As a one-of-a-kind collection, Pudgy Penguins just closed a successful auction with Sotheby's, where they managed to fetch over $125,000. This was a remarkable milestone for the Pudgy Penguins team. Sotheby's is a renowned and trusted global auction house for art and luxury. The company is known for its vast selection of works thanks to its distinguished sources, including private collectors, galleries, and dealers across the globe. They also cultivated a dynamic community of the world's most sophisticated, culturally curious, and inquisitive people to discover, acquire, finance, and consign fine art and rare objects.
With this, Pudgy Penguins have been known by many as the Doge of NFTs. This is also supported by its exceptional debut performance. The collection experienced a meteoric rise in popularity, earning over 60,000 ETH in transaction volume in the first 12 months and seeing individual sales as high as 400 ETH. The Penguins paved the way to establishing the industry standard for digital collectibles by attracting well-known celebrities as collectors, including Stephen Curry, Tory Lanez, and Lil Baby.
However the first half of 2022 wasn't kind to the collection as the Penguins encountered The Great Blizzard. Struggling to realize a clear path forward, Pudgy Penguins' founder, Cole Thereum, transferred his iconic Penguin #4609 to Luca Netz, an avid community member, to lead the huddle. After months of laborious work under new management, the collection realized improved sales volume and pricing, a testament to its vibrant community's welcoming, positive culture—a true story that exemplifies steadfast dedication.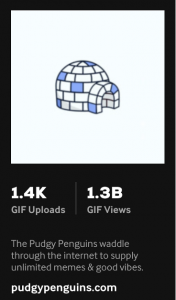 Ever since, Pudgy Penguins has cemented its position in the community with the best and most viral memes. In effect, the brand has been embedded in memes reaching over a billion people through their viral GIFs, and their community involvement in spreading these GIFs have been incredibly impactful. They have also established an identity as a beacon of positivity that puts smiles on the faces of investors, fans, and supporters in the Web3 space.