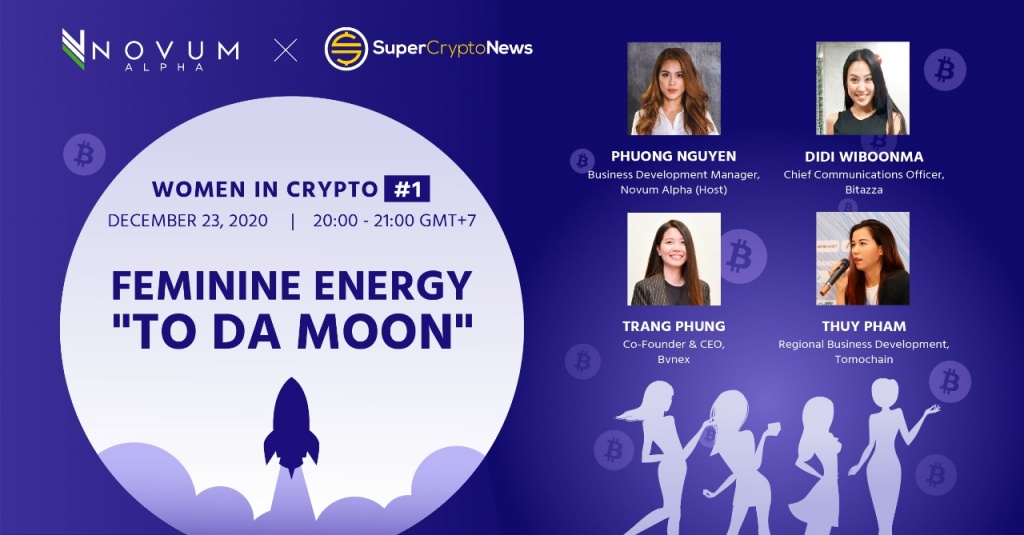 Many people assume that the cryptocurrency and blockchain sectors are just for men and such a "masculine" field. But it is not…Sadly, women working in the crypto fields are rarely recognised for their incredible achievements.

Being a stereotypically male-dominated industry, but in 2020, the number of women participating in crypto and blockchain is skyrocketing. Recent reports show an unprecedented increase in the number of women involved in the crypto market, some exchanges like Bitfinex even witnessed a 160% surge in female users. According to Grayscale, 43% of investors interested in Bitcoin are women and this number is actively mounting.

Why is this happening?
What are key factors that contributed to this record growth?
How have women in Asian countries got involved in the field to become crypto users and blockchain companies' leaders?
SuperCryptoNews and Novum Alpha aim to answer these questions with experts from Southeast Asia blockchain firms on a webinar to help shed some light on this topic. Join our virtual talks series #WomeninCrypto to meet and listen to interesting stories from inspiring women pioneers in crypto and blockchain space. Get to know the latest trends, best practices and their journeys into this field!

The webinar will feature top of the line speakers namely Didi Wiboonma – Chief Communications Officer, Bitazza, Trang Phung – Co-Founder & CEO, Bvnex and Thuy Pham – Regional Business Development, TomoChain. Join us on the online venue from the comfort of your home on Wednesday, December 23 2020 at 8:00 PM (GMT+07).

Get your free ticket now: https://www.eventbrite.com/e/women-in-crypto-1-feminine-energy-to-da-moon-tickets-132898295379

About Novum Alpha:
Singapore-based quantitative cryptocurrency trading firm that uses AI and Deep Learning tools to deliver consistent, uncorrelated returns in all market conditions
About SuperCryptoNews:
Asia's leading blockchain & crypto news provider, covering daily news focused on trading and investment developments in crypto