MicroStrategy CEO Michael Saylor has recently gotten involved in another tussle on Twitter. This time, it was with Peter Schiff.
Schiff tweeted that the CEOs following Saylor's "asinine advice to plug their balance sheets into Bitcoin" in order to hedge against an expected yearly inflation rate of 2% are experiencing 17 years worth of expected inflation losses, their "hedge" going down as much as 34%.
Saylor replied to the tweet with a picture that shows the return of gold vs bitcoin: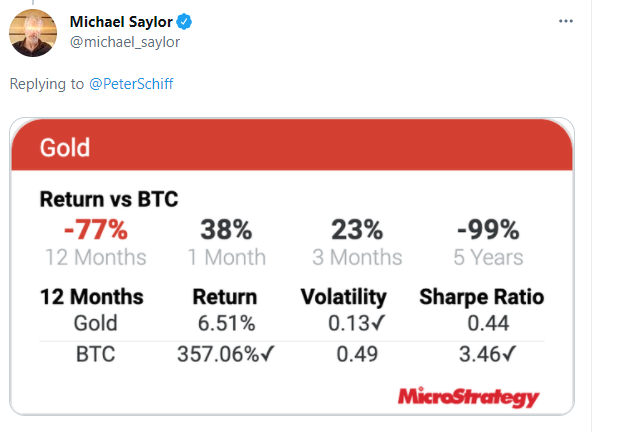 Schiff took that as an irrelevant reply, spurring Saylor to debate with him and defend his views as Saylor has rejected every opportunity to do so.
Saylor finds it pointless to debate with Schiff, saying:
"It's not clear what we would debate. Your position appears to be 'Buy some gold, or silver, or gold stocks, or government bonds, or corporate bonds, or dividend stocks, or value stocks, or emerging market stocks, or small company stocks, or anything really – just not too much.'"
Schiff fought back by saying that the debate should be about Bitcoin. He stated his objection to Saylor's belief that Bitcoin is digital gold. Schiff thinks that everyone who owns Bitcoin should sell it and finds Saylor's touting of Bitcoin to be nonsensical.
Saylor ended the scuffle by saying that there is no point in debating with Schiff as he appears to only feed into the fear, uncertainty, doubt, and vitriol surrounding bitcoin, adding that Schiff already has no faith in gold, equity, bonds and fiat — making Bitcoin the "winner" by default.
As for MicroStrategy Inc, the firm has publicized its purchase of 229 bitcoins for $10.9 million at an average price of $43,663 per bitcoin, inclusive of fees.
The company now has over 92,000 bitcoins in its holdings, having spent $2.25 billion at an average purchase price of $24,450 per bitcoin for the entire stash.