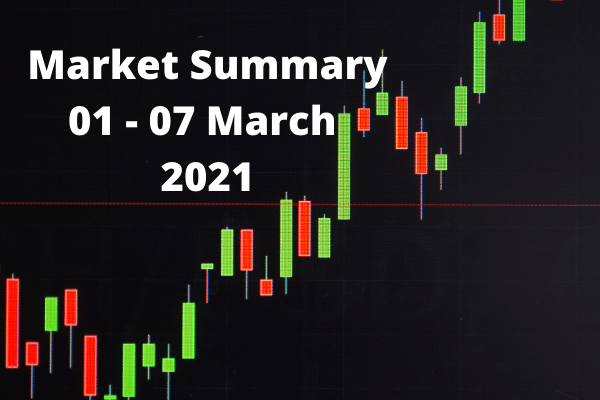 Crypto Market Summary
Last week saw heightened volatility as crypto market saw a huge correction – peak to trough of roughly 25%
We suspect large swings to persist for this week
Watch out for key support level of US$42,000 and US$39,000
Any break above US$56,000 should imply next bull-phase
General Market Summary
U.S. stocks finished a mixed bag last week with the S&P 500 (-0.47%) and blue-chip Dow Jones Industrial Average (-1.50%) down, while the tech-centric Nasdaq Composite (+0.56%) with futures activity in the morning session in Asia pricing in recovery in stocks
Asian stocks are all higher this morning, leading the way as bond yields start to normalize.

The benchmark U.S. 10-year Treasury yield fell two basis point to 1.380% in signs that the initial bond-age looks to be ebbing.

The dollar fell as investors rotated back into risk and as the Biden administration inches closer towards passing its ambitious US$1.9 trillion stimulus package.
Oil rose with April 2021 contracts for WTI Crude Oil (Nymex) (+2.05%) at US$62.76 as the dollar weakened.
Gold edged higher with April 2021 contracts for Gold (Comex) (+0.79%) at US$1,742.40 as investors became more comfortable on the retreat of U.S. Treasury yields to shift back into the precious metal.
Bitcoin (-0.31%) 

fell slightly over the weekend to US$46,394 and appears to have stabilized as inflows into exchanges slowed against outflows (inflows suggest that traders are looking to sell Bitcoin in anticipation of lower prices). 
Beware the Ides of March may have been relevant to Julius Caesar (it was the month when he was allegedly assassinated) but markets seem to be shrugging them off.
As the northern hemisphere looks forward to spring, a period typically symbolizing new growth, investors are starting to shift away from the carnage in bond markets, where yields have retreated sharply, and hoping to return to some sense of normal market dynamics.
In Asia, markets opened the week higher with Tokyo's Nikkei 225 (+2.25%), Sydney's ASX 200 (+1.53%), Hong Kong's Hang Seng Index (+1.53%) and Seoul's Kospi Index closed for South Korea's Independence Day.