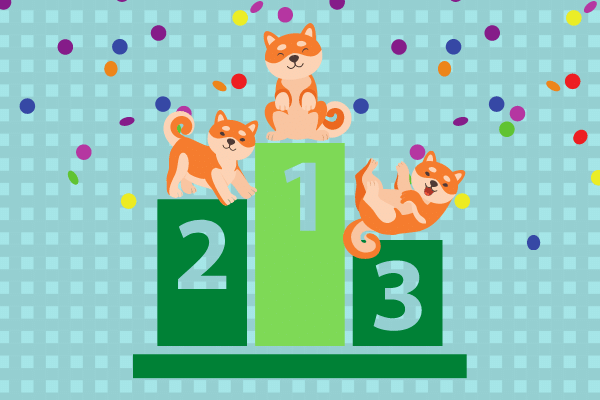 Dog-themed cryptocurrencies have been gaining some traction lately, mostly due to Elon Musk's touting of Dogecoin, a digital currency that was originally made as a joke or "meme" coin. Dogecoin was one of the first coins to be inspired by the Shiba Inu Internet meme as it was brought to existence in 2013.
The success of Dogecoin has spawned multitudes of similar cryptocurrencies, and has also brought some attention to a few of them — to which they will be ranked according to their market cap.
Market cap: $1,470,058
The DogeCash project strives to gather people from all over the world to develop a network of services backed by a leading cryptocurrency belonging to every single investors involved.
Market cap: $1,550,078
Its official website remarks that Dogeswap is inspired by Dogecoin to improve the efficiency of decentralized Finance and provide high return for Yield Farming.
Market cap: $2,512,192
An oddball of the list, one is required to own a Telegram account in order to participate in its military-themed group, where all members will be divided into a hierarchy with ranks such as Private, Sergeant, Major and more.
The project prides itself in its integrity as its core and has gotten Vitalik Buterin involved with it.
Market cap: $28,104,425
A self-described green and efficient cousin of Dogecoin, the token aims to deliver high speed and affordable transactions while maintaining security.
Market cap: $262,600,216
Its name is a portmanteau of Doge, Elon Musk and Mars — a reference to Elon's enthusiastic support of Dogecoin and his company SpaceX's vision to colonize Mars.
The token began trading on Uniswap on April 22, 2021.
Market cap: $6,458,351,638
SHIB gave itself the nickname "DOGECOIN KILLER", according to its official website. Its own decentralized exchange, ShibaSwap, will be listing the token.
Given that it is following behind Dogecoin, there may be a possibility that it would live up to its moniker any time soon.
However, it is also possible that its nickname would prove to be detrimental to the token. At least that is what a lot of the SHIBArmy subreddit members believe.
Billionaire youth Vitalik Buterin sold off his entire SHIB holdings, which drove the currency further down to the ground.
Market cap: $63,376,676,196
It is a no-brainer to assume that Dogecoin — the originator that inspired the mass spawning of doge-inspired cryptocurrencies — would remain the alpha dog of the pack.
The coin appears to be the current favorite of Elon Musk, a figure with considerable influential power within the crypto industry. However, some have accused him of carrying out a pump-and-dump scheme, in regards to his constant public support of Dogecoin.
There are investors who believe that Dogecoin should not be seen as safe investments due to how hype-based its market is.
On the flip side, there are retailers and institutions that treat Dogecoin like any "serious" currencies, accepting it as a viable mode of payment.