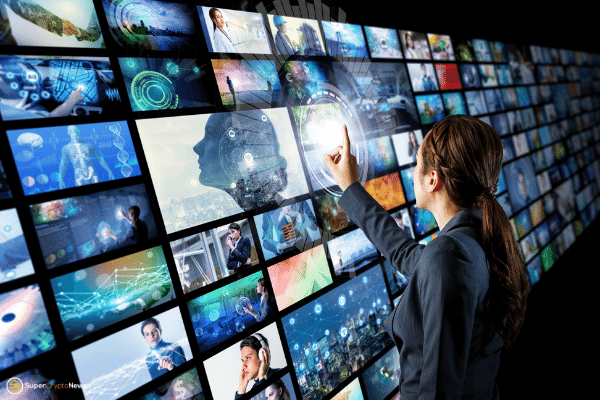 Just recently at the SXSW conference, Eluvio revealed its latest streaming and ticketing platform for concerts and all kinds of premium exhibitions that artists can distribute directly to their audiences around the world — Eluvio LIVE.
The new platform, built on Eluvio's Content Fabric, is the world's first 4K video streaming and ticketing service where all of the contents are secured and sold via blockchain contracts, and users will not be hit with distribution or content management fees.
Launched in 2019 and used by major media companies like MGM Studios and FOX Networks, the patented Content Fabric is a scalable blockchain-based content distribution network for premium video. It was invented by a team that Michelle Munson and Serban Simu lead. They are the multi-Emmy award winning founders and inventors of an IBM-acquired digital video transport technology, Aspera.
Artists and publishers are now able to utilize the impressive technology that Content Fabric has to offer via Eluvio LIVE. This means being able to directly distribute low-latency content to their fans and have all the controls be placed onto the owner's hands.
The high quality, low latency contents can be streamed to AppleTC, Roku, and mobile and browser platforms. The platform provides built-in geofencing, robust personalization, digital non-fungible token (NFT) creation and merchandising for performances, sporting events, concerts, movie screenings or premieres.
The live content will be automatically recorded and can be reused on demand. It can also be remodified and remonetized in order to bolster new events, sponsorships, creative collaborations, and availability windows.
"Eluvio LIVE was created to address the fundamental shifts taking place right now across the music and entertainment industries," Michelle Munson, Eluvio's CEO and co-founder, remarked. "Artists and publishers want to reach audiences anywhere in the world, in a way that gives them the highest levels of financial control, video quality, and customization.
The global shift towards streaming live events, necessitated by the pandemic, will become a permanent way to amplify in-person performances when they return, and the opportunity for artists to control their content destiny via blockchain technology has come together in a unique moment.
Eluvio LIVE will enable these 'multi-experiential' viewing opportunities to reach beyond the confines of physical venues, and unlock the ability of artists and publishers to continually monetize their content."
There will be an initial series of major concerts on Eluvio LIVE, with Paramax Films as the one in charge of filming and production.
"Eluvio LIVE is the perfect complement to live production and filming companies like ours," said the CEO of Paramax Films, Amos Rozenberg. "Today's artists and producers critically need a platform they can control, that is both high quality and scalable, and more versatile and profitable to distribute and monetize their performances, and Eluvio LIVE is a breakthrough on all of those fronts."
Eluvio trains their focus on transforming the management, distribution and economics of premium video for content owners. The company's team comprises a core team of innovators in content-centered design, machine learning, blockchain ledgers, A/V processing, and programmable media, as well as Michelle Munson and Serban Simu.