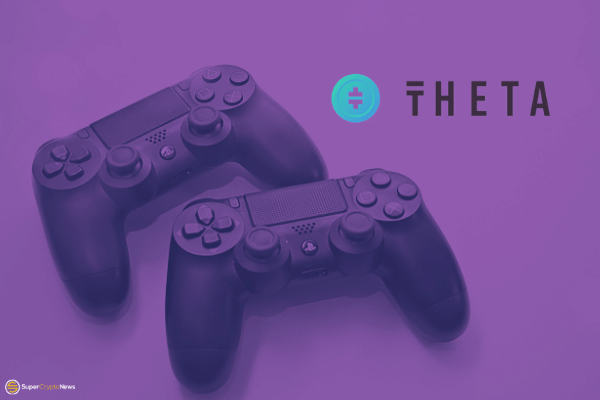 Overview
Founded in 2015, Theta (THETA) is a blockchain powered network built for video streaming that aims to decentralize and increase the efficiency of video streaming, data delivery and edge computing.
The Theta Network and protocol aims to solve various challenges that the centralized video streaming industry faces today.
First, Theta offers tokens as an incentive to encourage users to share their redundant computing and bandwidth resources as caching or relay nodes for video streams. This will  improve the quality of stream delivery and solves the "last-mile" delivery problem, the main bottleneck for traditional content delivery pipelines, especially for high resolution high bitrate 4k, 8k and next generation streams.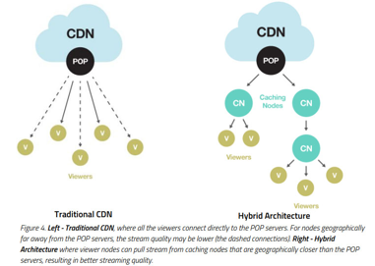 Second, with sufficient network density the majority of viewers will pull streams from peering caching nodes, allowing video platforms to significantly reduce content delivery network (CDN) costs.
More importantly, by introducing tokens as an end-user incentive mechanism the Theta Network allows video platforms to deepen viewer engagement, drive incremental revenues, and differentiate their content and viewing experience from their competitors.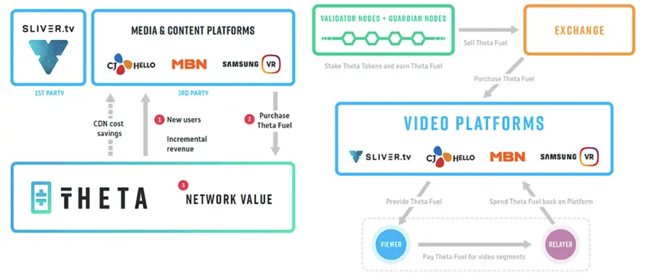 The network runs on a native blockchain, with two native tokens, known as Theta (THETA), Theta Fuel (TFUEL), powering the internal economy. Users have an incentive to both watch network content and share network resources, as rewards come in the form of TFUEL tokens. In addition, Theta uses the proof of stake consensus mechanism to enable many different devices to many different devices acting as viewers and caching nodes.
Theta's Approach
Theta's mission is to leverage blockchain technology to create the first Decentralized Video Streaming and Delivery Network whereby video viewers are incentivized to share redundant computing and bandwidth resources to address today's video streaming challenges.
Theta's ecosystem consists of six major stakeholders:
Streamers/Influencers – They produce content within the network and are rewarded for their contributions.
Viewers – Users who come to THETA.tv to consume video content and are rewarded for viewing and engaging with videos and can also choose to be rewarded for viewing advertisements.
Advertisers – Businesses or individuals that use the platform to promote services and products to the viewers. They spend tokens to buy advertising time in the network, and to sponsor influencers.
Edge Nodes – These nodes relay video streams over the Theta Network and earn TFUEL, providing support to THETA.tv and other upcoming video platforms using Theta Network. With the latest update, people can now also broadcast their own video streams and have them distributed over the Theta Edge Network. This allows them to stream entirely peer-to-peer without any centralized CDN involved.
Guardian Nodes – Guardian nodes were transitioned to mainnet and began helping validator nodes in securing the network, producing blocks, and earning TFUEL for their contributions. These nodes ensure that no single entity or group can easily control the Theta staked in the ecosystem, significantly improving the decentralization of the network.
Enterprise Validator Nodes – These nodes are run by Google, Blockchain Ventures, Samsung, Sony Europe, Binance, gumi Cryptos, and Theta Labs, with more major enterprises in the process of joining.
Team Composition
Co-founder/CEO – Mitch Liu (https://www.linkedin.com/in/mitchliutheta/)
Cofounder THETA.tv
Cofounder Gameview Studios
Cofounder Tapjoy
BS in Computer Science & Engineering from MIT
MBA from Stanford Graduate School of Business
Co-founder/CTO – Jieyi Long (https://www.linkedin.com/in/jieyilong/)
Cofounder THETA.tv
BS in Microelectronics, Peking University
PhD in Computer Engineering, Northwestern University
Developed multiple patented technologies including VR live streaming as well as instant replays for video games.
Chief Product Officer – Ryan Nichols (https://www.linkedin.com/in/rnichols/)
Chief Product Officer at THETA.tv
Designed and launched virtual currency systems for a variety of platforms.
Director at Tencent for the Wechat app
Cofounder of a live video streaming app for foodies
Undoubtedly, Theta's founding team is very experienced and qualified. It is no wonder that its adoption is gaining speed and the company has managed to secure valuable patents regarding its technologies.
Intellectual Property
U.S. Patent 10,771,524, "Methods and systems for a decentralized data streaming and delivery network"
U.S. patent number 10,951,675, "Methods and systems for blockchain incentivized data streaming and delivery over a decentralized network"
U.S. Patent 10,979,467, "Methods and Systems for Peer Discovery in a Decentralized Data Streaming and Delivery Network"

U.S. Patent 20210035098 (Still Under Application), "Methods and Systems for Micropayment Support to Blockchain Incentivized, Decentralized Data Streaming and Delivery"
The patents allow Theta to at least have a monopoly in this coveted DSN business model for the foreseeable future.
Traction
Over the last six months, the amount of Guardian staking nodes have increased. Therefore, the amount of Theta staked also increased.
Main Net US Guardian Nodes – Last 6 Months Data Summary (http://www.thetascan.io/staking/historic/)

| | | |
| --- | --- | --- |
| Month | Nodes | Staked |
| May 2021 (MTD) | 2,377 | 602,306,181 |
| April 2021 | 2,026 | 578,128,829 |
| March 2021 | 1,712 | 553,781,452 |
| February 2021 | 1,399 | 570,310,232 |
| January 2021 | 1,341 | 558,729,640 |
| December 2020 | 1,108 | 538,276,670 |
| November 2020 | 927 | 520,272,078 |
Upcoming Catalyst – Theta Mainnet 3.0
In less than two months, Theta will be introducing their Mainnet 3.0, bringing new features to TFuel. Theta's Mainnet 3.0 will enhance TFuel's economy which includes inflation, staking and burning.
The first feature is the TFuel 2-4% inflation. According to Theta, with proper inflation incentives, the number of edge nodes can quickly grow from thousands to tens or even hundreds of thousands, which can provide sufficient bandwidth to fulfill the needs of major video platforms with numerous users.=
The second feature is TFuel burning as a balancing force. According to Irving Fisher's theory of exchange, higher token velocity requires lower token circulation supply. Conceivably, with a portion of TFuel burned for each edge network payment, the supply of TFuel will be reduced. Once the excess amount of TFuel is burned the system will eventually enter a balanced state where the TFuel utility value is effectively stabilized.
Summary
Today, we are looking towards a future of decentralization. Theta's aim to decentralize and increase the efficiency of video streaming, data delivery and edge computing is the future. Theta's patents and infrastructure have positioned it to become one of the biggest streaming platforms in the very near future.
Who knows? It may well be the next "Youtube", a better Youtube – created by the people for the people.