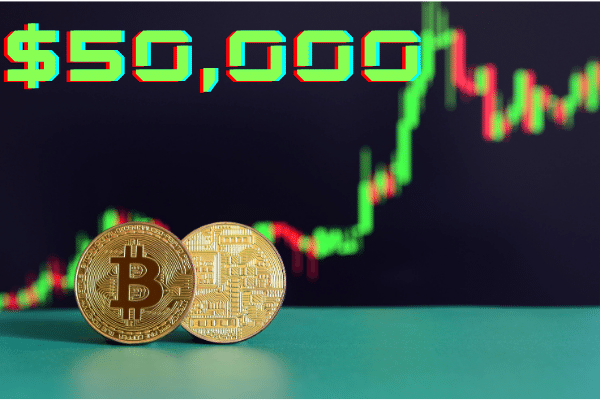 While investors were whiling away the weekend, traders took advantage of thinner volumes to push Bitcoin past US$49,000 for the first time ever
Explosive rally in Bitcoin is due to a number of factors, including unprecedented fiscal and monetary stimulus, as well as ever-increasing institutional acceptance
What a difference a weekend makes.
It's long been known that thinner trading volumes on the weekends make Bitcoin particularly susceptible to large price swings and this past weekend saw Bitcoin surge to as high as US$49,000 for the first time ever before slipping slightly.
Up over 70% so far this year, Bitcoin has been buoyed in recent weeks on news that card issuer Mastercard (-0.55%) will start allowing its cardholders to transact in certain cryptocurrencies on its network, becoming the largest company ever to embrace the nascent asset class.
According to a Mastercard blog post last week, the firm is also "actively engaging" with central banks around the world on plans to launch their own central bank-issued digital currencies.
Bitcoin has also received a boost from endorsements by billionaire hedge fund managers Paul Tudor Jones and Stanley Druckenmiller.
Last week Morgan Stanley (+1.21%) was also reported by Bloomberg to be mulling a US$150 billion bet on Bitcoin via its investment banking arm, following news last week that Bank of New York Mellon (-0.47%) plans to provide cryptocurrency access to some of its clients.
That momentum has fueled Bitcoin's most recent rise as almost every week it seems as if new, high-profile institutions or investors are coming out to speak in support of Bitcoin's value and function within a portfolio.
Whether or not that momentum will continue to be sustainable is anyone's guess, as Bitcoin continues to remain wildly volatile, susceptible to sharp pullbacks on slow news days.
Nonetheless, there are continued reasons for bullishness in the world's biggest cryptocurrency by market cap.
Now that the crypto-savvy Gary Gensler has been nominated by U.S. President Joe Biden as his pick to helm the U.S. Securities and Exchange Commission, the prospect of a U.S.-based Bitcoin ETF is better than ever.
Last week, Canadian regulators approved their first Bitcoin ETF, paving the way for the U.S. to follow suit, as it had done previously for a cannabis ETF.
And U.S. Treasury Secretary Janet Yellen has long voiced a need for cryptocurrencies to be regulated – potentially opening the door for broader institutional adoption and securitization of digital assets.
All of these factors will come into play to help fuel the bullish Bitcoin narrative and while Bitcoin is likely to remain volatile for some time to come, for now at least, its prospects appear positive.