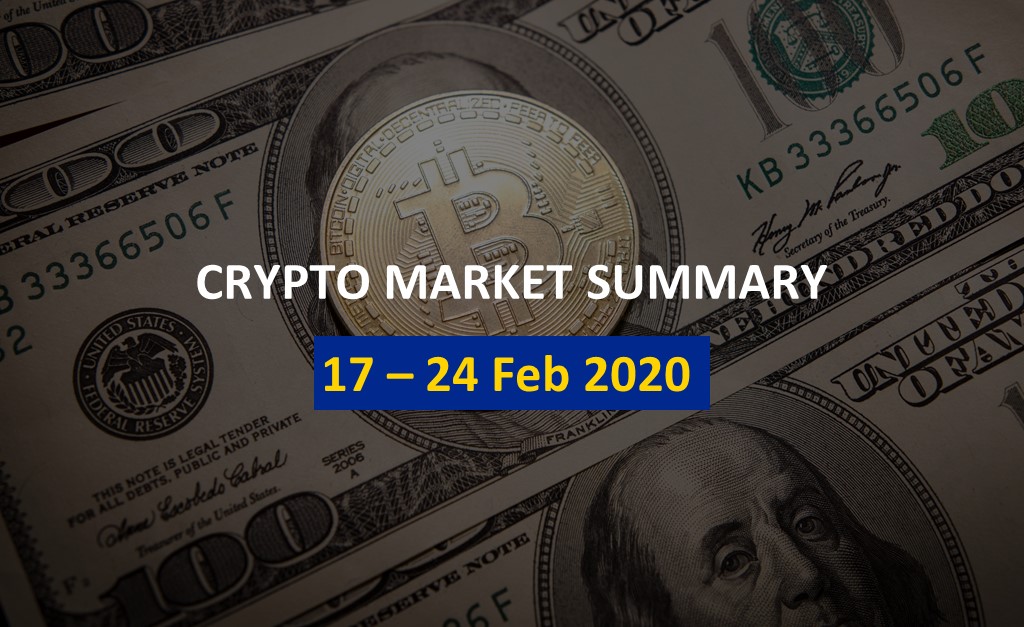 A week does not a trend make and nowhere was this more apparent than when it came to Bitcoin. The panic caused by the awkwardly named Covid-19 virus led some to find safe havens in physical assets such as gold, as well as its digital equivalent, Bitcoin. 
Despite a stronger dollar, gold has held critical support around US$1,550 as equity markets moved sideways. Given the hybrid nature of Bitcoin – neither safe haven asset nor full-on speculative tool – Bitcoin pared back some of its gains, despite repeatedly trading well above the psychologically important resistance at US$10,000. But that level of resistance did not a level of support make, with the bellwether cryptocurrency falling below US$10,000 and now trading within a band of between US$9,700 to US$9,950. 
As the initially feared lethality of the Covid-19 virus outside of Chinese borders appears relatively low compared to within the Middle Kingdom, expect there to be continued sideways trading of Bitcoin over the next week. 
Outside of any apocalyptic news on the virus front, Bitcoin is unlikely to push past the US$10,000 barrier for now and given the impending halving or halvening (if you will) of Bitcoin, is also not likely to fall through US$9,500 either. 
The side story that is of greater note is that while Bitcoin may have given up some of its initial momentum above the US$10,000 level, most altcoins continued to retain their initial Covid-19 surge. 
Ethereum, the world's second-largest cryptocurrency by market cap continues to trade above US$220, while Bitcoin Cash and Bitcoin SV have continued to retain much of their 2020 gains. 
In the event that Bitcoin should give up more of its dollar value, expect that it's other two namesakes such as BCH and BSV to give up proportionately more, while Ethereum is likely to give up less in terms of dollar value over the next seven days. 
Bear in mind that Bitcoin is still the favorite cryptocurrency for mainland Chinese to bring their assets out of China and the Covid-19 spread across the country has led many to start funneling cash into Bitcoin for transfer overseas. 
But that doesn't mean that they will buy Bitcoin at any price, which is why when traders bid up Bitcoin past US$10,000, it pulled back to hover just below that level. At this level and with reduced volatility, in the short term, Chinese traders have found a "sweet spot" to transfer assets overseas using Bitcoin without risk of too much slippage. 
From that perspective, Bitcoin as a medium of exchange could benefit from this reduced trading volatility.
You may also want to read: Bitcoin Ready for Big Breakout to Take Back Dominance from Altcoins