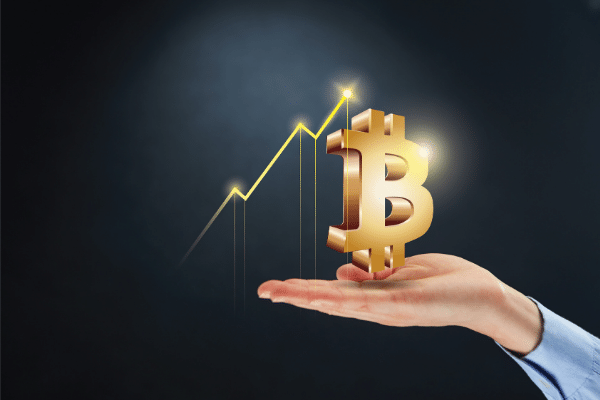 Bitcoin maintains well above US$30,000 but the resilience of the rebound is uncertain. 

Signs of institutional investors buying the dip have helped to maintain price, but further rallies are not a given until the latter half of the year when the block reward for mining Bitcoin is halved.
The decoupling that so many cryptocurrency investors had hoped for worked out, but not exactly as planned.
For weeks, investors bemoaned the strong correlation of Bitcoin and other cryptocurrencies with stocks, in particular the tech-heavy Nasdaq 100.
But those correlations broke down last week as equities rose on the back of heightened expectations the U.S. Federal Reserve won't be as trigger happy when it comes to tightening, over recession and unemployment concerns.
Even as the riskiest stocks rebounded last week, cryptocurrencies remained in the doldrums, with Bitcoin pushing US$28,000.
But what a difference a week makes.
Investors took the opportunity to buy the dip on Bitcoin, and it is now well over the psychologically significant US$30,000 level of support.
Ether, the world's second largest cryptocurrency still hovers just below the US$2,000 level and suggests that the durability of this recent rebound is questionable.
Some closely-watched technical measures suggest that cryptocurrency prices could still drop to their lowest since December 2020, especially if Bitcoin fails to maintain its support over US$29,000.
If Bitcoin manages to maintain well over US$30,000, there is the outside chance that it could range-trade to resistance at US$40,000 but a break down below US$29,000 would confirm the ominous double-top pattern, that risks seeing Bitcoin capitulate to US$25,400 and then the 200-day moving average at US$22,100.
Nevertheless, there are green shoots of recovery for the world's largest cryptocurrency – increased institutional flows.
Over the past week, there have been signs that more institutional investors, including family offices, have been snapping up Bitcoin on the cheap, as a much more price-friendly entry point compared to the all-time-high of last year.
Whereas in 2021, there were many institutional investors sitting on the fence when it came to Bitcoin, prices appear low enough to at least tempt some back in.
Those flows have also been reflected in retail investors and a total of US$255 million flowed into Bitcoin-based products in May alone.
The second half of the year will also provide some bullish resolve for Bitcoin, with its expected halving that will reduce the mining reward and reduce some of the sell-side pressure that is exerted by miners.