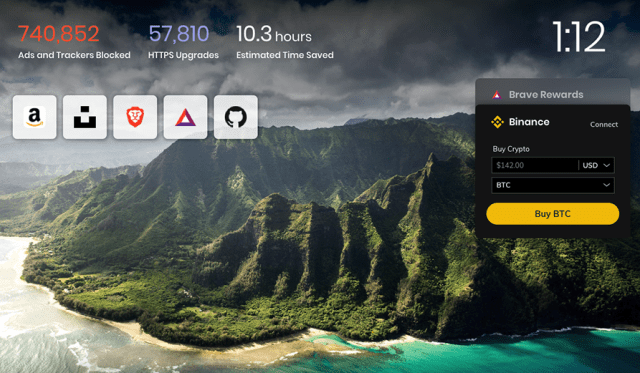 Brave Software's popular ad-free and privacy-protected browser is bringing its users direct in-browser integration with the world's top cryptocurrency exchange Binance. Users can now access Binance directly via a widget installed in the browser, connecting them to either Binance.com or Binance.US and also, offering users a one-stop service connected to the exchange for storing, managing, buying and selling their crypto assets. 
The added feature provides greater convenience for Brave's users and may help improve conversions for both the browser and the Binance exchange platform, as this integration can solve issues such as user drop-offs if they find accessing the exchange via another window on their desktop too cumbersome. Moreover, Brave's privacy functions extend to Binance's services within the widget as well.
Bitcoin and major altcoins such as Ethereum, Litecoin, Ripple and more will be made available on the browser.
"Cryptocurrency trading can be a daunting task for users not familiar with such assets, so integrating Binance into the Brave browser makes the process seamless and simple. By bringing a leading exchange like Binance directly into the browser, Brave is taking cryptocurrency trading mainstream and enabling users to conduct transactions with ease," said Brendan Eich, CEO and co-founder of Brave.
You may also want to read: Brave Files Complaint Against Google with GDPR