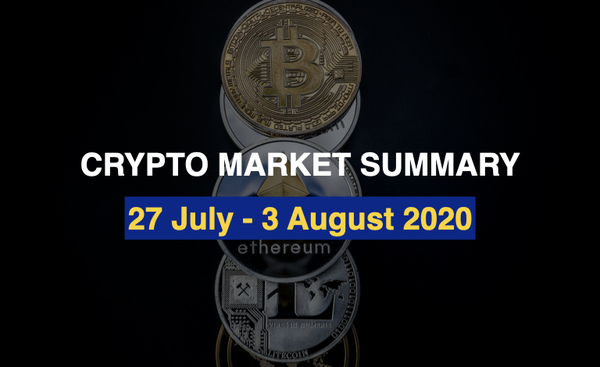 The past weekend has been heartwarming for crypto enthusiasts as the top two leading cryptocurrencies, Bitcoin (BTC) and Ethereum (ETH), each experienced clean breakouts from the consolidation phase.
Gold continues to be humanity's store of value for thousands of years as it finally created a new historical record with a fresh new all-time-high (ATH) at $1,944 per troy ounce. The previous ATH was last achieved in September 2011 at $1,920 before the asset fell into an almost decade-long bear market. The surge in prices of gold may be due to the weakening US dollar as well as some investors who might be fleeing from US treasury bonds that are suffering from negative yields as demands for safer investments rise.
Bitcoin Technical Analysis
BTC in the weekly timeframe has shown that we are finally breaking out from a multi-year suppressing trendline originating from the previous ATH at $20,000. Maintaining above this trendline would suggest that BTC has pivoted and is now entering a new bull-cycle.
The next target will be at $10,500 which is the previous local high made during early 2020 run-up before the mid-March COVID slammed the price down. Looking at Fibonacci's retracement levels, we can identify next resistances to be at $11,505 and $13,514 respectively.

However, if this recent push proves to be a fake-out, Bitcoin could fall back down and resume tradings in the descending triangle with the lower trendline in yellow acting as support.

Ethereum Technical Analysis
ETH in the weekly chart shows that $321 is a significant resistance level which keeps suppressing ETH price since July 2018 while $75 acts as formidable support as ETH bounced off from the level twice.
Breaking above $321, the next target would be at $400 and $600, according to the Fibonacci's retracement levels.
The rise in demand for ETH is arguably coming from the ETH 2.0 upgrade which has been slowly taking shape. The Medalla testnet set to go live on August 4th, marking a significant step closer to the Phase 0 initiation.
Meanwhile, the SCN30 Index has adjusted higher to 196.21 points, getting closer to retest the yearly high at 207 made in February. The major force behind this SCN30 movement comes from Ethereum which is weighted at 20% and Cardano (ADA), which is one of 2020's top performers. It is now ranked number four on the index.

Disclaimer: This analysis is the view of the author's alone, and does not in any way represent trading advice. all traders should trade at their own risk.
You may also want to read: Speculative Stocks and Altcoins – Two Peas in a Pod?