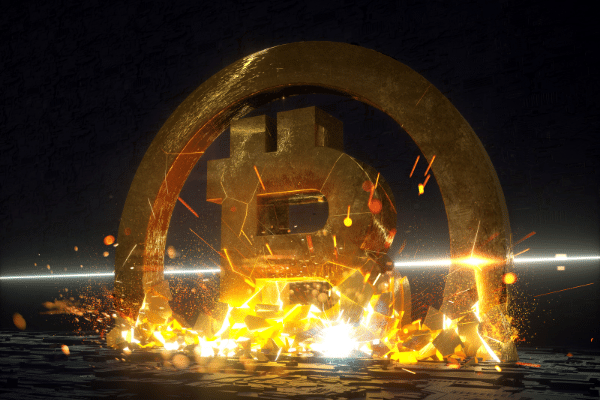 I wrote three books about bitcoin and publish a newsletter about cryptocurrency. My family's financial welfare depends on bitcoin's success. I don't want to answer the question in my title, but I feel compelled to bring it up.
When you look at the data, trends, and patterns of behavior we saw as bitcoin's price approached its four previous market cycle peaks, you will see the same things today as you did for each of those other times.
That history suggests bitcoin's bull run will end next month at a price of roughly $90,000.
I realize that seems crazy. On March 11, 2021, I published a detailed post for subscribers of my Crypto is Easy newsletter going deep into the data and correlations. I summarize them below and recommend you read that other post for a more nuanced and informative explanation. This article hits only the high notes.
Also, make sure you caught my post from earlier this month, Bitcoin's Market Cycle Peak is a Lot Closer Than You Think.
Mark, don't even bother. Institutions will never let that happen!
Yes, some say institutions will never let the price crash. No more bear markets. Only up forever. They're all FOMOing in, buying up even the slightest dip. "Wall of institutional money."
Sounds great.
To sustain this bull market, we need institutions to HODL, not just buy. After all, they can't push prices higher when they're selling their bitcoin right after they get it.
Look at the realized cap HODL waves, which show the movements of bitcoin among older and newer wallets based on the value of the bitcoins that move.
Unlike the HODL waves you're probably used to, this metric quantifies the influence those HODLers have on the market. Rather than calculate a percentage of people or wallets, it calculates the percentage of bitcoin's market value.
We know institutions accumulated a lot of bitcoin from September to December.
If they're still HODLing that bitcoin, we should see it reflected in some growth in the band that represents people who acquired bitcoin in the past 3–6 months.
We don't see that at all.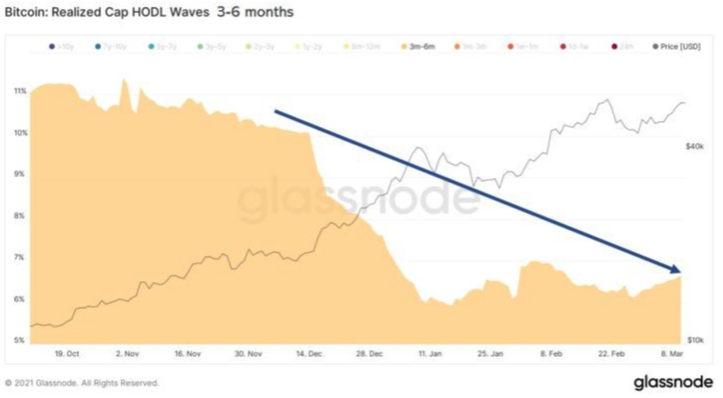 In fact, we see a steep drop dating back months.
This chart lumps all the short-term HODLers, people who've had bitcoin for three months or less. Blue circles are market cycle peaks.