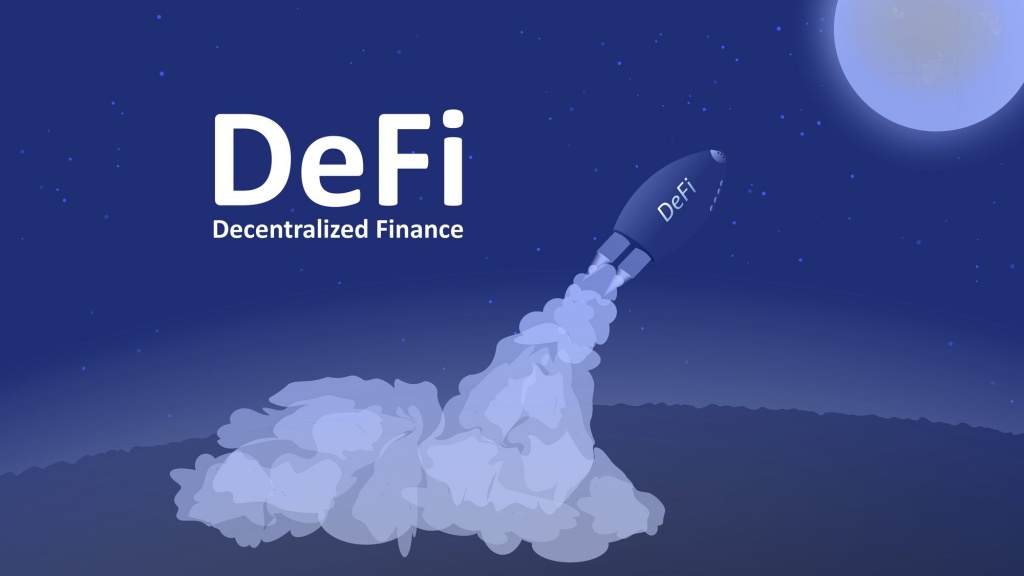 Over the course of the weekend, DeFi tokens are seeing recoveries from the brutal dumps in previous weeks, resulting in greens across the board. Lower lows were being created in many major DeFi protocols, but can they create higher highs?
According to Jeff Dorman, CIO at Arca, has tweeted about the 30-day changes in revenue changes for DeFi protocols. The majority of projects are in deep red with Curve (CRV) hit the hardest with -82% in the past 30 days.
Yearn Finance (YFI) which can be deemed the DeFi market "leader" saw a strong bounce of 58% during the past three days. Uniswap's UNI token is also showing strength as the token price did not dip as low as other projects.
YFI created a swing-low at $12,200 before buyers stepped in and took it all the way back to $19,500. With a presence of volume during the V-Shape reversal, this indicates that the trend might flip to a bullish phase once again. The next target should be at $21,150 which was a former support level and a neckline of the H&S pattern. Standing above said level would raise the opportunity for YFI to jump up and test the local high at $32,000 level.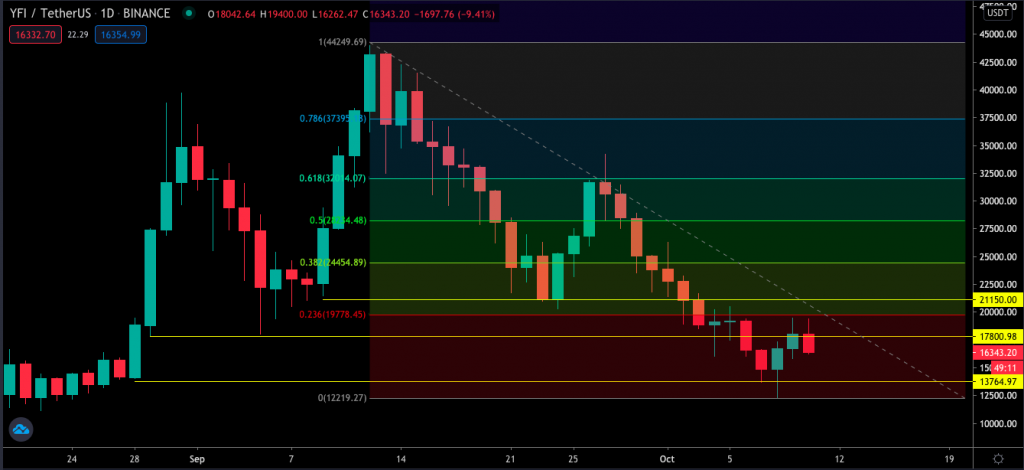 Chainlink (LINK) managed to create a first lower low after the recent dip to $7.27 level. However, the bounce still failed to surpass the previous high at $11. Breaking above the level would result in the first higher high in almost two months. The next resistance that could be a target of a potential higher high is located at $12 Fibonacci's level.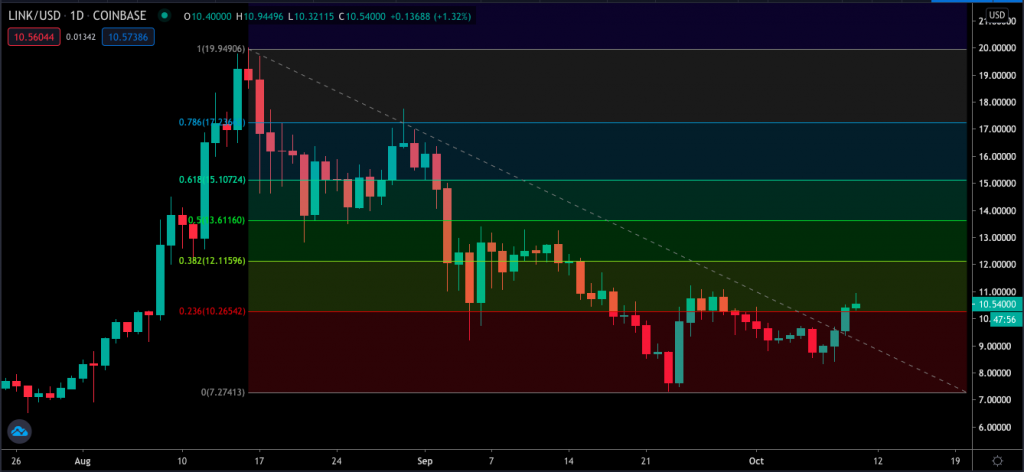 Synthetix Network (SNX) bounced-off the $3.5 level twice and created a potential double-bottom pattern, which is a bullish signal. The short-term resistances lie at $4.5 and $5.14 respectively. Breaking above $6.18, however, could send SNX to retest the all-time-high once again.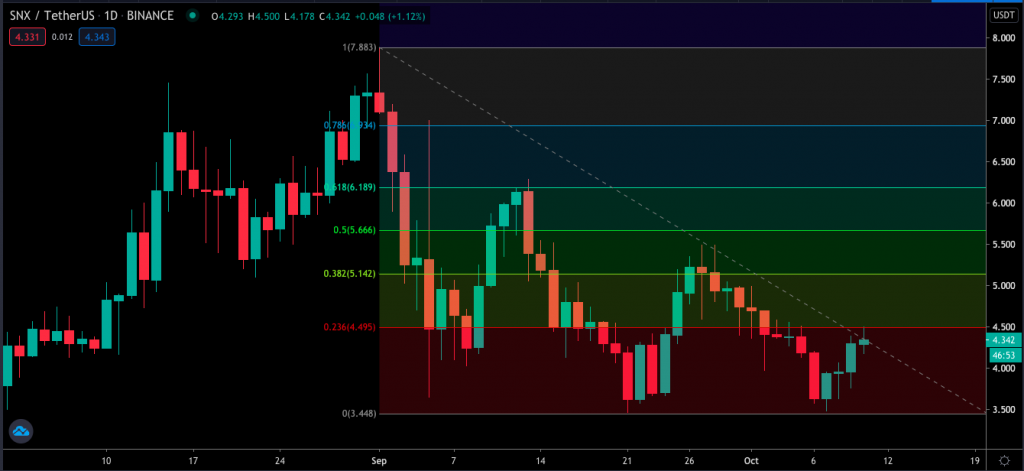 Ren Protocol (REN) is still in recovery from the swing-low of $0.157 and testing $0.326 resistance at the moment. Breaking above said level would confirm a reversal with short and midterm targets at $0.378 and $0.50 respectively.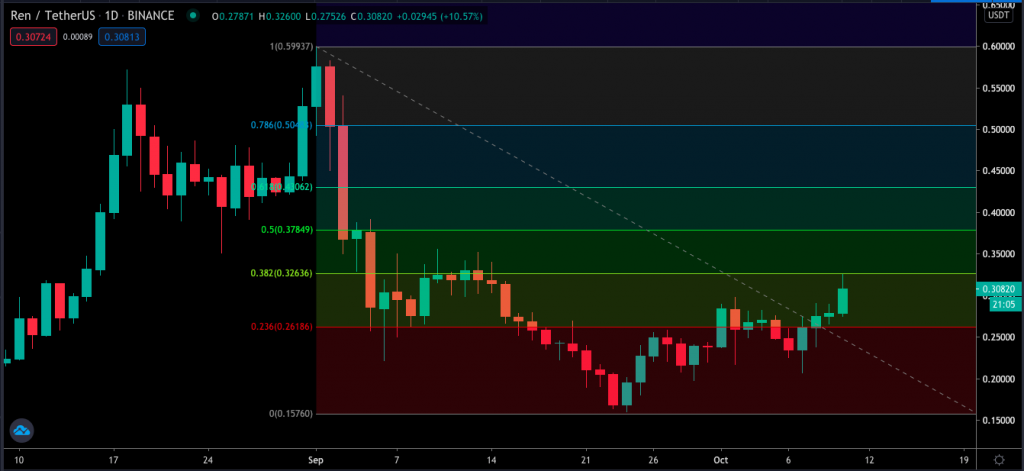 The overall trend of DeFi protocols is looking bullish once again despite the prices are still in rock bottom areas compared to their ATHs. Creating higher highs after managing to bounce from a higher low level is crucial as a confirmation signal of the trend reversal back to the bullish side.
You may also want to read: Another Big Player in The Game: Square Puts $50 Million in Bitcoin