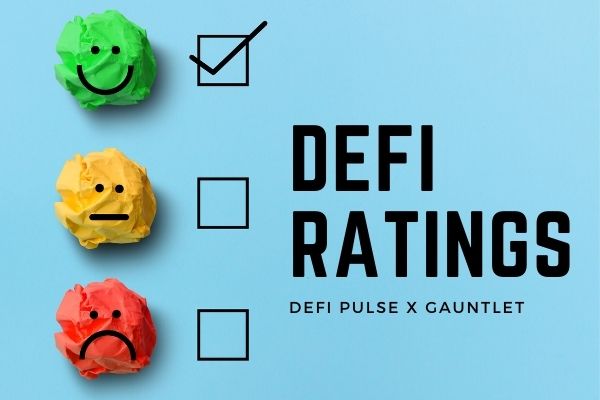 Leading DeFi data aggregation platform DeFi Pulse is the crypto community's go-to source for project statistics. The DeFi equivalent to CoinMarketCap and CoinGecko, DeFi Pulse provides crucial data pertaining to both old and new DeFi projects, and in a bid to strengthen its ecosystem, the platform has introduced benchmark guidelines that determine the risk level of any DeFi project.

The DeFi Pulse Economic Safety Grade, developed in collaboration with blockchain protocol security specialist Gauntlet Network, assesses the insolvency risks of DeFi projects via Gauntlet's live simulation platform and certifies each project with a percentage grade. The higher the grade, the safer the protocol in question is for investors or depositors as the risk of them making losses is incredibly low. 

Currently, DeFi Pulse has tested this new feature on major DeFi protocols Aave (LEND, AAVE) and Compound Finance (COMP), which have obtained 95% and 91% respectively on their safety grades.

Gauntlet looks at five main factors to determine the final score, including user behaviour, collateral volatility, relative collateral liquidity, protocol parameters and smart contract risk, although the firm notes that their focus is on the first four factors. Risks with smart contracts underpinning a DeFi protocol are best assessed by smart contract auditors, the firm says.

What Gauntlet does instead is study historical data on liquidity and volatility to single out the riskiest collateral type, then assessing the risk of a system when stablecoins are borrowed against this collateral asset.
The DeFi sector is rife with projects that are known for its network vulnerabilities, and yield farmers or traders who make their foray into projects are often unaware of the risks that DeFi products present.
"Decentralized lending protocols have grown to become essential tools for DeFi users, but with that growth came added complexity. It can be difficult for the average user to fully understand how they function let alone properly assess the risks they face," said the DeFi Pulse team.
It was previously reported that 40% of yield farmers do not understand the smart contracts of any protocols they are involved in as their primary concern is with the percentage yields or incentives that a project is able to offer them.
"What is shocking to us (or maybe not) is that a large chunk of the farmers do not know how to read smart contracts (40%) and do not even know what impermanent loss is (33%), which implies that they don't know their real ROI and are extreme risk-takers for the sake of the high returns," CoinGecko's survey findings revealed.
With Gauntlet's grading system integrated onto the DeFi Pulse platform, a form of risk indicators is now easily available and accessible to the DeFi community.
You may also want to read: Is DeFi Simply A Mass "Crypto Rebranding" Movement?