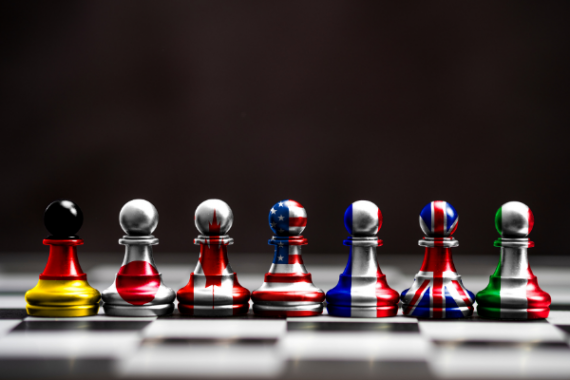 The Group of 7 industrialized nations is attempting to implement a tariff and price cap on Russian oil in an attempt to alleviate Europe's looming energy crisis, while stymieing Moscow's ability to continue waging war in Ukraine.  

G7 cap on Russian oil unlikely to work in practice because China and India remain major buyers of heavily discounted Russian crude.



Seven of the world's largest industrial economies are mulling a price cap on Russian oil in a bid to curtail the Kremlin's ability to fuel its aggression in Ukraine as well as shield consumers from soaring energy prices, but the prospect of implanting one may be more aspirational than realizable. 
In May, U.S. Treasury Secretary Janet Yellen described a plan to her European counterparts to tariff or cap Russian oil in order to alleviate Europe's fuel shortage until a full ban on the country's energy exports came in effect.
Energy analysts suggest that imposing a price cap could possibly backfire if key consumers are not involved to synergistically implement the measures.  
Some of the biggest customers of Russian fossil fuels include China and India who have benefited greatly from discounts on Russia crude oil of US$30 a barrel or more, as compared to the international benchmark Brent Crude which trades around US$110 a barrel.
Given how neither India nor China have been unequivocal in their condemnation of Russia's invasion of Ukraine and have been soaking up heavily discounted Russian crude, it's highly unlikely that sufficient consumer unity can be garnered to implement a price cap in any meaningful way.
Speaking with CNBC, Senior Vice President at energy research firm Rystad Claudio Galimberti noted that a price ceiling will have "many obstacles that could derail" the plan and states that Russia could easily refuse to sell its oil at prices set by the cap, especially if the benchmark is low and close to production costs.
Galimberti adds that while a price cap is "a measure worth considering at this stage" he also notes that "time is running out".
With the war in Ukraine dragging on and Russian forces making greater gains in the Donbas, Europeans are meanwhile facing an energy crisis which has seen the price of natural gas shoot up by over 700%.
A G7 cap on Russia's crude oil exports, while admirable, is unlikely to find the needed consensus amongst the current major buyers of the resource – the real cap on current energy prices will come from worries over an impending recession.