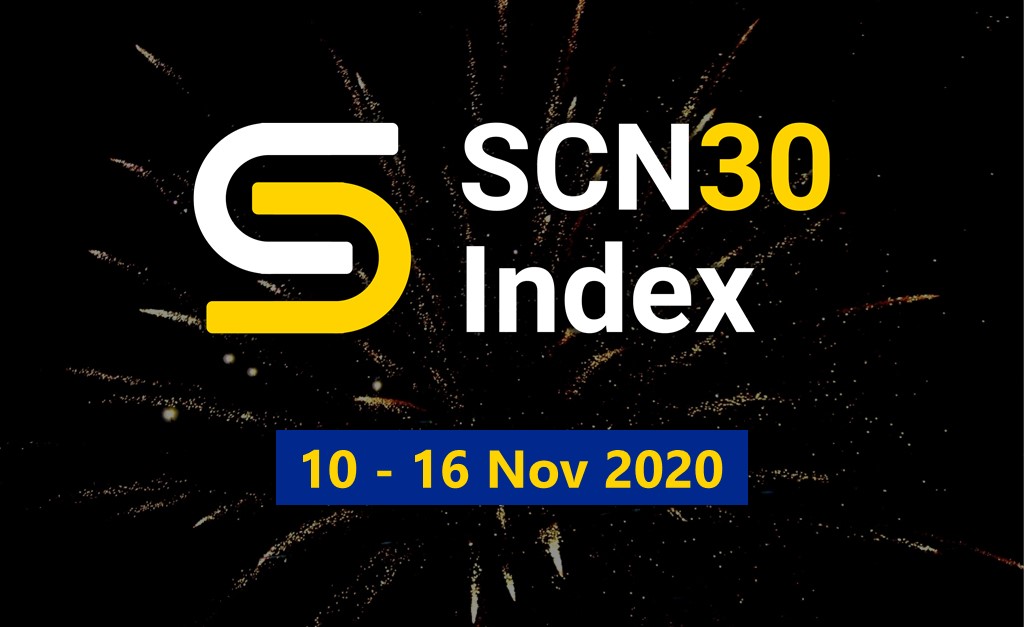 The US presidential election has finally come to a conclusion, president-elect Joe Biden is to be the 46th president of the United States. The certainty in the political scene of the world's largest economic powerhouse coupled with Pfizer-BioNTech's breakthrough for the COVID-19 vaccine gave a boost-jump for stock markets and oil prices. 
Be that as it may, digital assets like Bitcoin along with the army of Altcoins have seen brighter days and managed to outpaced the traditional assets. The SCN30 Index created a series of higher-highs and higher-lows and now stands at a 4-month high.
The index rose from 248.31 points to 281.82 points, a +13.49% gain in a week. The main force pushing the index upward are large-cap Alts such as Ethereum (ETH) and Chainlink (LINK). Additionally, DeFi projects managed to vigorously rebound from the swing-low which helped boost the index valuation.
With this continued upward momentum, the SCN30 should have a shot to retest the all-time high at 312.5 points while the rising trend line in white should be able to act as support. The top-performing index constituent in the past seven days was Nem (XEM) with a 25% return and  Chainlink (LINK) with 15% return.

Chainlink Technical Analysis
Chainlink (LINK) bounced off from the bottom of the rising channel (in dark blue) and managed to breakout from the symmetrical triangle indicating a mid to long-term bullish momentum. 
LINK should continue to trend upward within the scope of the rising channel in the short term while the immediate overhead resistance is located at $13. If LINK decides to push forward into the upside, within the next week we should see the test of the top of the channel at around $14.5.

Nem Technical Analysis
Nem (XEM) is one of the underestimated constituents which performed exceptionally well last week. In the short term, XEM is pushing against the $0.13 resistance for multiple days now. The longer you push against the resistance or support, the weaker they become. 
Breaking above the $0.13 level will lead to $0.14 and eventually the yearly high at $0.174.
For the support, the $0.118 is a critical point XEM needs to hold, breaking below this will shift the trend from short term bullish in short term bearish instantly.
Disclaimer: This analysis is the view of the author's alone, and does not in any way represent trading advice. all traders should trade at their own risk.
You may also want to read: Here's Why Bitcoin Will Take the Lead in This Bull Market